McLaren back on top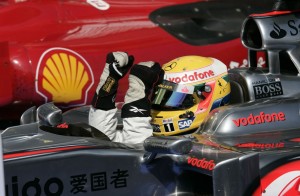 The  Hungarian Grand Prix has been called Monaco without the glamour and, like Monaco, the twisty Hungaroring circuit has something of a reputation for processional races but on a weekend that had already seen a dramatic qualifying session the race proved anything but processional.
At the German Grand Prix, Lewis Hamilton showed a hint of the performance improvements the McLaren engineers had made to his MP4-24 but his collision with Mark Webber ended any hopes for a podium Hamilton might have had.  Today there was nothing stopping him.
From fourth on the grid Hamilton used his KERS to charge past Kimi Raikkonen into the first corner and briefly take second from Mark Webber before ceding it again in the second corner.  A few laps later Hamilton had passed Webber and was hunting down a very lightly fueled Fernando Alonso.  When Alonso made his first stop, Hamilton had him.
After Alonso's stop it soon became apparent that his Renault's right front wheel wasn't properly attached and a few corners into his out lap the wheel became completely detached and bounced off the track and into the Armco.
After Saturday's incident in qualifying that put Felipe Massa in hospital, the stewards were obviously very sensitive about bits coming off cars and subsequently suspended Renault from the European Grand Prix at Valencia in four weeks time.  The stewards statement said:
[Renault] knowingly released car no. 7 from the pit stop position without one of the retaining devices for the wheel-nuts being securely in position, this being an indication that the wheel itself may not have been properly secured.
Renault have filed notice to appeal this decision.
It was the first win of the season for McLaren and Hamilton's first victory since the Chinese Grand Prix in October last year.  Hamilton said:
It's an incredible feeling to be back on the top spot after what feels like such a long time and such a struggle. This was one of my best races – I never gave up and, more importantly, neither did anyone in this team. I'm so proud of all the guys. We didn't expect to win today – we didn't think we quite had the overall pace – but the car was just perfect to drive, it felt fantastic for the entire race.
It was also the first victory for a KERS powered car.
With Mark Webber finishing third behind Kimi Raikkonen and Jenson Button finishing seventh, Button's lead in the Championship has narrowed to 18.5 points and Red Bull have closed the Constructors' gap to just 15.5 points.
2009 Hungarian Grand Prix Race Results
| Pos | Driver | Team | Grid | Time | Points |
| --- | --- | --- | --- | --- | --- |
| 1 | Lewis Hamilton | McLaren-Mercedes | 4 | 1:38:23 | 10 |
| 2 | Kimi Raikkonen | Ferrari | 7 | 1:38:34 | 8 |
| 3 | Mark Webber | Red Bull-Renault | 3 | 1:38:39 | 6 |
| 4 | Nico Rosberg | Williams-Toyota | 5 | 1:38:49 | 5 |
| 5 | Heikki Kovalainen | McLaren-Mercedes | 6 | 1:38:57 | 4 |
| 6 | Timo Glock | Toyota | 13 | 1:38:58 | 3 |
| 7 | Jenson Button | Brawn-Mercedes | 8 | 1:39:18 | 2 |
| 8 | Jarno Trulli | Toyota | 11 | 1:39:31 | 1 |
| 9 | Kazuki Nakajima | Williams-Toyota | 9 | 1:39:31 | 0 |
| 10 | Rubens Barrichello | Brawn-Mercedes | 12 | 1:39:32 | 0 |
| 11 | Nick Heidfeld | BMW Sauber | 15 | 1:39:33 | 0 |
| 12 | Nelson Piquet Jr | Renault | 14 | 1:39:34 | 0 |
| 13 | Robert Kubica | BMW Sauber | 18 | 1:39:37 | 0 |
| 14 | Giancarlo Fisichella | Force India-Mercedes | 16 | lapped | 0 |
| 15 | Jaime Alguersuari | Toro Rosso-Ferrari | 19 | lapped | 0 |
| 16 | Sebastien Buemi | Toro Rosso-Ferrari | 10 | lapped | 0 |
| RET | Sebastian Vettel | Red Bull-Renault | 2 | retired, 29 laps | 0 |
| RET | Fernando Alonso | Renault | 1 | retired, 15 laps | 0 |
| RET | Adrian Sutil | Force India-Mercedes | 17 | retired, 1 laps | 0 |
Image: McLaren