Massa moves over for Alonso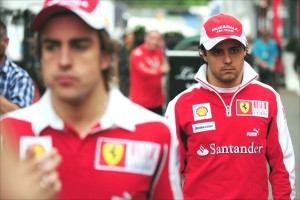 At the 2002 Austrian Grand Prix, at the height of Michael Schumacher's dominance of the sport, Ferrari ordered Rubens Barrichello to give up his race lead and let Schumacher past to take the victory. Barrichello duly slowed at the final corner of the last lap and let his team mate pass him just before the finish line.
The crowd didn't like it. There was jeering during the podium ceremony which was made even more awkward when Schumacher encouraged Barrichello to take the top step and handed him the trophy for first. Both Barrichello and Schumacher were fined one million dollars for their behaviour and a new rule was introduced banning so-called team orders.
39.1: Team orders which interfere with a race result are prohibited
Such is the clear intention of this rule that many were surprised at Ferrari's blatent imposition of team orders at Hockenheim on Sunday.
Having led the race from a fantastic start, Felipe Massa was told by his engineer, Rob Smedley:
OK, so, Fernando is faster than you. Can you confirm you understood that message?
There was silence on the radio but confirmation was given when Massa obviously slowed at the exit of turn 6 and allowed Alonso to pass. Smedley then told Massa:
Good lad. Just stick with him now. Sorry.
The stewards fined Ferrari $100,000 for the move although the race result still stands. The stewards have also referred the issue to the World Motor Sport Council which may take further action against Ferrari.
This is the second time Alonso has picked up a victory due to the blatant altering of the race by a team mate. While not as dangerous as Nelson Piquet Jr's deliberate crash in Singapore, Massa's move was equally unsporting and like Singapore, Alonso doesn't seem to treat his win as anything less than fully deserved.
There has been a lot of debate about whether team orders should or shouldn't be allowed but the fact remains that there is a specific rule forbidding them and Ferrari willfully broke that rule.
As to the question of whether team orders should be allowed, I think it is clear that the fans don't want them – no matter how much the teams may.
There is an inherent conflict of interest in a Formula One team. Both drivers are hired by the team to drive for the team but when it comes down to it, each driver is driving for themselves. There can be only one champion and every driver wants it to be him. And while Ferrari have legions of supporters devoted to the Scuderia I don't think the fans want to see race results manipulated even if it is for the good of the team.
What made Sunday's result even worse was that it was the first anniversary of Massa's terrible accident at Hungary. A win for the Brazillian would have been a fitting and well-liked result. Instead Ferrari showed clear Alsonso favouritism and did nothing for the Spaniard's popularity.
All the talk of Alonso being faster than Massa is specious. A similar point was made about Webber and Kovalainen at Valencia but the reality is that Formula One is not just about who has the fastest car. It is also about who is the best driver and it can be just as exciting to see a skilled driver holding off a faster car as it is to see overtaking. If it was only about speed then why bother racing at all? Why not just have each car set a lap time on its own and then rank them accordingly?
I think team orders are wrong but it is not the use of them in this case that I find as distasteful as the obvious lying by Ferrari after the event.