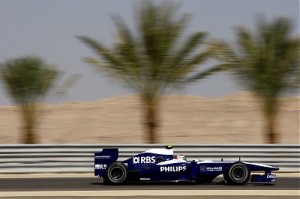 So what to make of the Bahrain Grand Prix?
If you believe some of the press, at least in the UK, the race was one long procession, only mildly more interesting than watching paint dry.
I agree it wasn't the most exciting of races but I don't think it was that bad. There was some overtaking although admittedly a few of those passes were like taking candy from a baby when Vettel's engine broke a spark plug.
Perhaps it was because expectations had been pumped up so high: four world champions, three new teams, the second coming of Michael Schumacher.
I think we need to give it a couple of races before passing too much judgment. Bahrain was the first race under the new refueling ban and the teams were obviously being careful with tyres and fuel. I think a lot of the drivers were holding something back and not pushing as much as they could have. Who knows whether Alonso would have mounted a successful attack on Vettel in the closing stages of the race if the German hadn't had engine trouble?
I hope in the future we will see more agressive driving and race strategy.
Schumacher, obviously disappointed with 6th, questioned the new rules saying
Overtaking was basically impossible unless somebody made a mistake.  That is the action we are going to have with this kind of environment of race strategy.
Even race winner Alonso thinks the refueling ban will encourage processional races.
But let's not forget one of the reasons the ban was introduced was to take away the option teams had of 'passing' in the pits. I don't think anyone prefers to see positions made or lost in the pits as opposed to out on the track. When you look at the number of actual on track passing moves (rather than 'passing' in the pits) in Bahrain was it that much worse than previous races?
I say let's wait and see. For a change, I agree with Bernie Ecclestone:
The first race with new regulations was always going to be a learning curve for them all. Now they know they can make improvements and be a bit bolder and we will get more action.

I had a meeting with the teams and tried to explain to them what our business is about – racing and entertaining the public. It's not about playing with computers and going fast over one lap.
Image: Lorenzo Bellanca/LAT Photographic