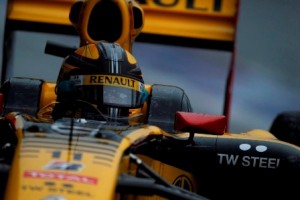 Lewis Hamilton proved his mastery of slippery conditions by claiming his third win of the season at the Belgian Grand Prix.
From second on the grid, Hamilton took advantage of Mark Webber's poor start to beat the Australian into the first corner. From there he was unstoppable and despite the rain led the rest of the race. Hamilton now leads the championship from Webber by just 3 points.
Robert Kubica demonstrated the effectiveness of Renault's new f-duct by finishing third, only narrowly missing out on second thanks to an error entering his pits. Team boss Eric Boullier was happy:
Overall I think we can be very satisfied with this weekend, especially because we brought our latest updates, including the f-duct, and managed to get it working properly straight away.
Once again, Force India were strong at Spa with Adrian Sutil finishing fifth and Tonio Liuzzi fighting against Fernando Alonso and Michael Schumacher. Force India is now 17 points clear of Williams in the Constructors' Championship.
While it is still a five-way battle for the Championship, Hamilton and Webber were able to pull away slightly from their rivals thanks to Vettel finishing out of the points and Alonso and Button not finishing at all.
Alonso suffered an early pitstop after being speared by an unstoppable Rubens Barrichello (on his 300th GP start) and Button fell victim to an erratic Sebastian Vettel who seemed to be doing his best to trade paintwork with everyone around him. Jenson was understandably disappointed:
All I felt was a really big bang in the sidepod and I lost drive immediately, I don't know what he was playing at really. From the point of view of the championship, it's a massive blow.
There is no doubt that Vettel is seriously fast, but he seems to make too many hot-headed mistakes.