Aston Martin to enter F1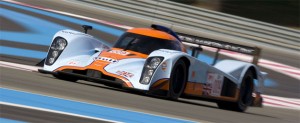 There are reports that David Richards's Prodrive team will lodge an application today to race in the 2010 Formula One World Championship.
Initially racing as Prodrive, the team will become Aston Martin in 2012.  The last time Aston Martin competed in Formula One was in 1960 where the team raced the beautiful but uncompetitive DBR4.
The new team is expected to have close links with McLaren.  Prodrive had intended to compete in the 2008 World Championship using a chassis supplied by McLaren but a legal challenge from Williams which banned the use of customer cars meant their entry for 2008 was withdrawn.
With room for 26 cars on the grid in 2010, it looks like there will be more team applications than places available.  USF1 and Campos Racing have lodged applications already and a number of other teams are also expected to apply.  It will then be up to the FIA to decide which teams will compete next year.
The Prodrive application is a strong one, though.  They have funding from Middle East backers and Richards has previous experience as team principal of the Benetton and BAR Formula One teams.
Update: Prodrive have submitted their application.  In a press release on the team's website, David Richards says:
We are very appreciative of the support we have been given in putting together our entry, not least by both the FIA and FOM. With the help of Dar Capital, in raising the finance, coupled with our understanding of the latest proposals to assist new teams, we now feel the conditions are right to formally request the FIA for an entry.

The level of next year's cost cap has risen substantially since we originally considered entering. However everyone appears committed to major reductions in future years and when one takes into account the transition proposals for new teams we are confident that we now have the opportunity to be both commercially viable and competitive. As we have said all along, we don't want to be in Formula One just to make up the numbers.