Webber back on top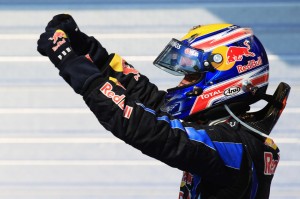 Mark Webber lifted himself to the top of the Drivers' Championship with a remarkable drive in the Hungarian Grand Prix on Sunday.
Although the circuit is well liked by the drivers, the narrow, twisty Hungaroring has a reputation for producing somewhat processional races but Sunday's race was anything but boring. Thanks to a safety car period and a drive-through penalty for Sebastian Vettel, Webber was able to leapfrog both his team mate and Fernando Alonso and seal a much needed  fourth victory.
Sebastian was clearly upset at missing out on what he thought would be a certain victory and for the second race in a row there were two team mates on the podium; one looking less than happy.
But while Webber now leads the Championship, Lewis Hamilton is only 4 points behind and Sebastian Vettel only 10 points. It is still very much a five-way battle between the Red Bulls, McLarens and Fernando Alonso's Ferrari. Webber knows he can't afford to relax:
It's nice to have more points than anybody else, but we're not getting ahead of ourselves as there are some big events coming up.
In the closing stages of the race a furious battle for 10th was taking place between old team mates Michael Schumacher and Rubens Barrichello. Rubens had complained over the radio that Schumacher was closing the door on his passing attempts very late in the corners and on lap 68 Schumacher very nearly forced Barrichello into the wall. Barrichello managed to scrape through with centimetres to spare but it was clearly an extremely dangerous move by Schumacher.
Barrichello called for Schumacher to be shown a black flag and ex-F1 driver Derek Warwick (who was on the stewards panel) told BBC's Radio 5 Live just how close Schumacher came to being disqualified:
Throwing a black flag would have shown a better example to our young drivers but by the time we got the video evidence we ran out of time and we had to do it retrospectively.
In the end the stewards handed Schumacher a 10 place grid penalty for Spa. With Schumacher's current performance this virtually guarantees he won't score any points in Belgium so it seems a fair penalty. After initially claiming innocence Schumacher eventually conceded his driving was dangerous:
Immediately after the race yesterday I was still in the heat of it all, but after I looked again at the situation with Rubens I have to say that the stewards were correct with their judgement.
What it does show is that Schumacher may have lost some of his old speed but he has lost none of his old ruthlessness.