Mercedes drop their Monaco appeal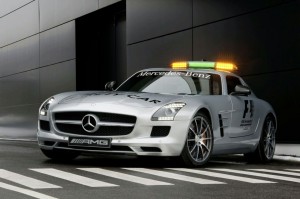 In a statement released today, Mercedes have announced that "in the best interests of the sport" they will not be appealing the decision of the stewards at the Monaco Grand Prix to hand Michael Schumacher a 20 second penalty.
On Sunday, the stewards declared that Schumcher's opportunistic pass of Fernando Alonso after the safety car had pulled into the pits on the final lap was in breach of article 40.13 of the sporting regulations.
Section 40 deals with the rules for safety cars and here is what that particular rule says:
If the race ends whilst the safety car is deployed it will enter the pit lane at the end of the last lap and the cars will take the chequered flag as normal without overtaking.
The confusion over the interpretation of that single sentence seems to come from the opening words: "If the race ends whilst the safety car is deployed".
Here is what Mercedes felt happened:
MERCEDES GP PETRONAS were fully aware of article 40.13 which states that no overtaking is permitted if the race finishes under safety car conditions. However we believed that the combination of the race control messages 'Safety Car in this lap' and 'Track Clear' and the green flags and lights shown by the marshals after safety car line one indicated that the race was not finishing under the safety car and all drivers were free to race.
I can see how both sides could have come to different conclusions about this (although the 'safety car in' message and the green flags are pretty persuasive) but I'm a little disappointed Schumacher was penalised. I thought it was a gutsy move and a flash of the old Schumacher cunning that some have started to think has vanished.
I would also have hoped that Damon Hill's influence might have swayed the decision in Michael's favour. I don't seriously think Hill would maliciously penalise Michael as some have stupidly suggested and I would have hoped the racer in Damon would have appreciated the move.
In fact Hill has voiced concern that the role of the driver on the stewards panel should not be to interpret the rules but merely to offer a driver's opinion of any racing incident.
Mercedes seem to have accepted that Formula One can do without results being changed by a court after the race but they have scheduled it for discussion at the next Sporting Working Group and I wouldn't be surprised if we saw the rule clarified to support the stewards decision.
My own view is this: unless a move is blatantly unsafe or against the rules then drivers should be given the benefit of the doubt and any overtaking should be encouraged.