Enough already?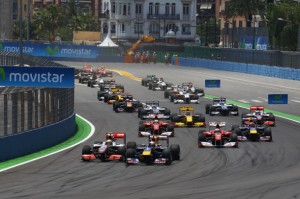 2009 saw the biggest change in regulations in Formula One for many years. This was largely in response to the perceived need to "improve the specatacle" of Formula One. There was a general feeling that overtaking had become so hard that it was making the sport boring.
There is a possibility that much of this impression of F1 being boring stems from the "good old days" point of view; that things are never as good as they used to be. I am not so sure that the amount of overtaking in Formula One has really declined that much in the last 20 years, however, I think the regulation changes have, in general, been a success. 2009 was a fantastic season and 2010 is shaping up to be even better.
A number of changes for 2011 were announced in Geneva last week, one of which was clearly designed to increase overtaking. This moveable rear wing regulation has caused quite a bit of controversy with some drivers saying it will be dangerous and others saying it will kill defensive driving and reduce the skill required to pass.
After the Canadian Grand Prix there have also been calls for Pirelli, the tyre supplier for 2011, to provide tyres of a more extreme range of durability.
I am starting to wonder if enough is enough. Apart from Bahrain, this season has seen some fantastic racing at every Grand Prix, even traditionally boring circuits like Barcelona and Valencia. I am not convinced the rules need any further messing with.
McLaren boss Martin Whitmarsh expressed a similar view:
I think we have a great show, we should be careful not to spoil it, but we should always be thinking about how we create some entertainment. Both Lewis and Jenson have showed this year that you can overtake in F1 cars.

We like talking about improving the show. The show has been fantastic this year. We must not keep this obsession with improving the show.
Image: Red Bull