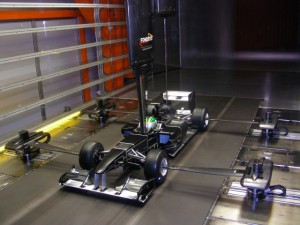 F1 Buzz isn't dead. We've just been taking a little holiday!
There is now less than two months until the 2010 Formula One season kicks off in Bahrain and less than two weeks until the first test in Valencia, so now might be a good time for a round up of who will be driving what this year.
BMW Sauber announced on Tuesday that ex-McLaren test driver, Pedro de la Rosa, will be partnering rookie Kamui Kobayashi at the Swiss team. What a great driver lineup Sauber have this year! De la Rosa is one of the most experienced test drivers in the business and I've always liked watching him when he has had the chance to race. The pairing of his experience and car development skills with the banzai driving style of Kamui Kobayashi mean BMW Sauber will be a team I will be watching closely this year.
Kimi Raikkonen has been ejected from Ferrari in favour of two-time World Champion Fernando Alonso. Felipe Massa could find himself under pressure as he returns to Formula One after his terrible accident at last year's Hungarian Grand Prix. Massa and Alonso have not been the best of friends in the past but Massa is insisting they will have a good relationship saying:
I've spoken more to Fernando now than in three years with Kimi.
McLaren have the dream team of back to back British World Champions with Jenson Button confident he can do well at the team many people think is built around Lewis Hamilton. If the pace of McLaren's development at the end of 2009 is anything to go by, the new MP4-25 should be a serious contender and it will be great to watch Button and Hamilton in equal machinery.
The team formerly known as Brawn will be the home of the new Silver Arrows as Mercedes take over last year's Constructors Champions. This will be another team to watch in 2010. The Mercedes engine is probably the best on the grid and Nico Rosberg should finally have the car underneath him to make him a serious Championship contender. Of course, he may feel a little intimidated by having the most successful Formula One driver in history as a team mate, but while Michael Schumacher will no doubt be competitive, he hasn't raced in F1 for a few years so it will be interesting to compare his performance against Rosberg.
Red Bull and Force India are the only two teams to carry over the same drivers from the last race of 2009 to the 2010 season. Last year saw Force India's first podium and Mark Webber's first win. Both will be trying for one better in 2010.
Everyone's favourite number 2 driver, Rubens Barrichello, will partner rookie Nico Hulkenberg at Williams. Along with the four new teams on the grid Williams will be using Cosworth power this year. The last time Cosworth competed in Formula One was 2006 so it will be interesting to see if their engine has the required performance and reliability.
Jarno Trulli (the rolling roadblock) and Heikki Kovalainen (the flying Finn) have landed seats at new team Lotus. I think with these two experienced drivers, Mike Gascoyne in charge and a name like Lotus the Malaysian team could be one to watch in 2010 and the years to come.
Ex-Toyota driver Timo Glock will partner ex-GP2 driver Lucas di Grassi at Virgin. I have no idea what to expect of this team but although they will miss the first test the team claim that they are still ahead of schedule and will be at the second test in Jerez.
The remaining teams are yet to announce their full lineup, but this is what we know so far:
Toro Rosso will keep Sebastien Buemi, one of the more successful rookies of 2009.
Robert Kubica is hoping Renault can give him a car equal to his talents.
Bruno Senna, the kid competing with Michael Schumacher for the most famous name on the grid, will drive for Campos.
USF1 are yet to announce any drivers and while they have a preference for American talent, could we see Nick Heidfeld heading States-side? There are rumours the team may not even make the first race let alone pre-season testing…
2009 was another fantastic season and while the changes in regulations for 2010 are not as dramatic it is still shaping up to be a great year of racing.
Stay tuned!
Image: Lotus F1