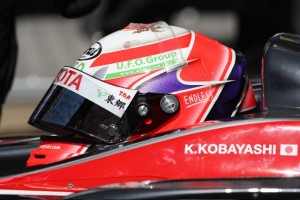 Toyota boss John Howett is considering offering Kamui Kobayashi a race seat next year.
The 23-year-old filled in for the injured Timo Glock in Brazil last weekend and managed to finish a respectable 10th.
Not only that, he wasn't afraid to go wheel to wheel against World Champion Jenson Button (who described him as "absolutely crazy.")
There is a lot of uncertainty in the driver market at the moment and Toyota are waiting until a board meeting on 15 November to make the final decision on whether to keep racing in F1.
Apparently Jarno Trulli has promised Toyota chairman Tadashi Yamashina that he would not make any decisions on 2010 until after that meeting but I get the impression Jarno's seat at Toyota is not as secure as he would like. Howett said of Trulli's position:
We don't exclude the possibility, but there need to be one or two issues that we get straight.
I'm a bit surprised at the cool reception Howett gave Kobayashi after Brazil, saying he was "a little bit off the pace," but compared to the efforts of Grosjean and Alguersuari I think he did a great job in his first Grand Prix.
Personally, I would like to see Kobayashi given a drive next year. I was always a fan of Takuma Sato and I can see shades of Takuma's Banzai spirit in Kamui.