If he was racing for medals Jenson would be Champion now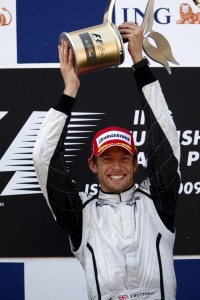 At the beginning of the year the FIA tried to change the scoring system so that the driver who won the most races would be crowned Champion – the so called 'medals' system.
There was much debate at the time as to whether this would enhance or detract from the Championship. I was (and still am) of the opinion that  it would not increase the spectacle and may even harm it.  In the end it was the teams who rejected the plan as it was introduced too close to the start of the 2009 season to be allowed by the FIA's own regulations.
However, I decided to leave the wins in the Drivers Championship standings in the sidebar so we could see what effect the rule change may have had.
It is clear that under the medals scheme Jenson Button would be Champion now.  In fact, he would have been Champion after Singapore and he hasn't won a race since Turkey back in June!
In a previous article I posted a quote from Jenson Button where he argues against medals:
I think the public will struggle to understand why a driver with 60 points can become champion instead of the one who has 100. I understand the logic behind it and I find it interesting. For sure it's an incentive to always go for the win, but it seems risky too – after nine races, we could find ourselves with a driver that has already won the title and can stand still eating ice cream, while the guy in second in the standings is just 18 points behind.
As it turns out Jenson could have been eating ice cream after only 7 races — although he couldn't have known that in Turkey.
Thankfully, the FIA are going to leave the scoring system unchanged for 2010. Anyway, it still looks like the driver who won the most races is going to win the Championship so that should keep Bernie happy.
For the last couple of years the points based system has provided exceptionally close run Championships and this year looks like it will be no different.
Image: Brawn GP