Jenson wins in Melbourne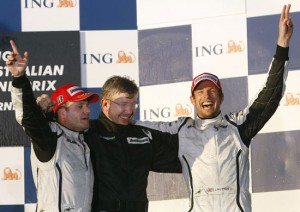 Brawn GP continued their fairytale first race weekend with a 1-2 finish in the Australian Grand Prix on Sunday.  Jenson Button took the chequered flag after leading from the start while team mate Rubens Barrichello finished second despite a poor start and trading paint several times during the race.
Button had driven away to a 47.7s lead only for it to be reduced to nothing when Kazuki Nakajima spun into the wall, drawing out the safety car, but the Brit managed to keep his lead under the restart.  Rubens's chances of a podium looked unlikely until the final laps when Sebastian Vettel and Robert Kubica found themselves in the same place at the same time.  Their crash took both cars out of the race and Vettel was later handed a 10-place grid penalty for Malaysia for causing the accident.  The Red Bull driver was also fined $50,000 for continuing to drive a damaged car.  Although Vettel appologised for the accident, BMW's Mario Theissen thinks that without the crash Kubica could have reeled in Button and won the race.  Whether that is true, we'll never know, but the BMW was certainly quick.
Toyota's Jarno Trulli was originally awarded third but continuing the theme of penalties and protests he was later handed a stop-go penalty for passing under the safety car.  As this occurred in the final laps of the race this was translated into a 25 second penalty, promoting reigning World Champion Lewis Hamilton to an unexpected third place finish.  After going from starting in the pit lane to finishing third, Trulli wasn't happy:
I can't say how disappointed I am to finish third but have the result questioned. When the safety car came out towards the end of the race Lewis passed me but soon after he suddenly slowed down and pulled over to the side of the road. I thought he had a problem so I overtook him as there was nothing else I could do.
Neither of the Ferraris finished the race and Aussie Mark Webber continued his tradition of bad luck, especially in his home Grand Prix, by finishing last.
The BBC's coverage was pretty good; no ads and it was good to hear more radio traffic, especially from Ferrari and McLaren but what is with all the Bernie love?  I know the BBC must be happy to have taken F1 from ITV but does their contract include a clause where Eddie Jordan has to praise Ecclestone every chance he gets?
Overall, though, It was a great start to the new season.  The racing was close and there were some fantastic drives.  Jenson drove a perfect race from lights to flag, rookie Sebastien Buemi scored two points for Toro Rosso on his debut, the Toyotas started from the pit lane but (almost) finished third and fourth and Barichello gave Brawn GP a perfect 1-2 finish despite driving into everyone he could see.  The BGP 001 is a tough car and seems to be fast even with bits of its front wing on the track.
But almost as amazing as the first 1-2 finish from a new team for fifty years was Hamilton's third place.  Lewis wrung all he could from the struggling MP4-24 and his drive reminded me of Schumacher who could always somehow salvage a good finish from what seemed an impossible position.  Lewis was lucky, though, and his 6 points will only give him and the McLaren engineers a little breathing room until they can find the downforce they are lacking.
2009 Australian Grand Prix Race Results
| Pos | Driver | Team | Grid Pos | Time | Points |
| --- | --- | --- | --- | --- | --- |
| 1 | Jenson Button | Brawn-Mercedes | 1 | 01:34:15.784 | 10 |
| 2 | Rubens Barrichello | Brawn-Mercedes | 2 | 01:34:16.591 | 8 |
| 3 | Lewis Hamilton | McLaren-Mercedes | 18 | 01:34:18.698 | 6 |
| 4 | Timo Glock | Toyota | 20 | 01:34:20.219 | 5 |
| 5 | Fernando Alonso | Renault | 10 | 01:34:20.663 | 4 |
| 6 | Nico Rosberg | Williams-Toyota | 5 | 01:34:21.506 | 3 |
| 7 | Sebastien Buemi | Toro Rosso-Ferrari | 13 | 01:34:21.788 | 2 |
| 8 | Sebastien Bourdais | Toro Rosso-Ferrari | 17 | 01:34:22.082 | 1 |
| 9 | Adrian Sutil | Force India-Mercedes | 16 | 01:34:22.119 | 0 |
| 10 | Nick Heidfeld | BMW Sauber | 9 | 01:34:22.869 | 0 |
| 11 | Giancarlo Fisichella | Force India-Mercedes | 15 | 01:34:23.158 | 0 |
| 12 | Jarno Trulli | Toyota | 19 | 01:34:42.388 | 0 |
| 13 | Mark Webber | Red Bull-Renault | 8 | lapped | 0 |
| RET | Sebastian Vettel | Red Bull-Renault | 3 | retired, 56 laps | 0 |
| RET | Robert Kubica | BMW Sauber | 4 | crash, 55 laps | 0 |
| RET | Kimi Raikkonen | Ferrari | 7 | retired, 55 laps | 0 |
| RET | Felipe Massa | Ferrari | 6 | retired, 45 laps | 0 |
| RET | Nelson Piquet Jr | Renault | 14 | crash, 24 laps | 0 |
| RET | Kazuki Nakajima | Williams-Toyota | 11 | crash, 17 laps | 0 |
| RET | Heikki Kovalainen | McLaren-Mercedes | 12 | retired, 0 laps | 0 |
Photograph: Mick Tsikas/Reuters