Fisi scores Force India's first points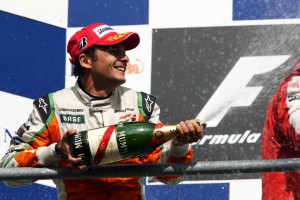 Why can't they all be like that?
The Belgium Grand Prix was a thrilling race on a fantastic circuit.  There was overtaking and excitement throughout the whole race.
Kimi Raikkonen may have taken the chequered flag on Sunday but it was only thanks to a pile up at Les Combes that he was able to pass Giancarlo Fisichella who had been on form all weekend.
The crash (which took out reigning World Champion Lewis Hamilton and current leader Jenson Button) and subsequent safety car allowed Raikkonen to deploy his Ferrari's KERS to power past the unboosted Force India of Fisichella.
After taking his first win of the season (and his first for 25 races) Raikkonen said:
I knew I needed to get past him. If I hadn't been able to do that at the restart, they had too much speed and it would have been all over. But I was close enough coming out of the first corner, used KERS and it was pretty easy in that way to get in front. I knew that so long as I didn't make any mistakes, I should win.
Despite scoring the first pole, points and podium for Force India, Fisichella knew if things had gone differently he could have been standing on the top step:
If you had asked me before coming to Spa, I would have said it would be fantastic to finish in the first eight and score a point for the team but, considering the pace we had all weekend thanks to improvements we've been making to the car, it was possible to win this race. My start had been perfect. When the safety car came out, I was over two seconds ahead. Kimi would not have been able to get near me for the rest of the race. But, because we had the restart, he was right behind me and able to use the KERS to overtake. There was nothing I could do. Second place and eight points is a fantastic result. But it could have been so much more.
The fact that Raikkonen was the sixth different driver to win in as many races means Jenson Button has still managed to hang on to a 16 point lead in the Championship.
2009 Belgian Grand Prix Race Results
| Pos | Driver | Team | Grid | Time | Points |
| --- | --- | --- | --- | --- | --- |
| 1 | Kimi Raikkonen | Ferrari | 6 | 23:50.995 | 10 |
| 2 | Giancarlo Fisichella | Force India-Mercedes | 1 | 23:51.934 | 8 |
| 3 | Sebastian Vettel | Red Bull-Renault | 8 | 23:54.870 | 6 |
| 4 | Robert Kubica | BMW Sauber | 5 | 24:00.961 | 5 |
| 5 | Nick Heidfeld | BMW Sauber | 3 | 24:02.271 | 4 |
| 6 | Heikki Kovalainen | McLaren-Mercedes | 15 | 24:23.758 | 3 |
| 7 | Rubens Barrichello | Brawn-Mercedes | 4 | 24:26.456 | 2 |
| 8 | Nico Rosberg | Williams-Toyota | 10 | 24:27.203 | 1 |
| 9 | Mark Webber | Red Bull-Renault | 9 | 24:27.954 | 0 |
| 10 | Timo Glock | Toyota | 7 | 24:32.485 | 0 |
| 11 | Adrian Sutil | Force India-Mercedes | 11 | 24:33.631 | 0 |
| 12 | Sebastien Buemi | Toro Rosso-Ferrari | 16 | 24:37.101 | 0 |
| 13 | Kazuki Nakajima | Williams-Toyota | 18 | 24:45.236 | 0 |
| 14 | Luca Badoer | Ferrari | 20 | 25:33.172 | 0 |
| RET | Fernando Alonso | Renault | 13 | retired, 26 laps | 0 |
| RET | Jarno Trulli | Toyota | 2 | retired, 21 laps | 0 |
| RET | Jenson Button | Brawn-Mercedes | 14 | crash, 0 laps | 0 |
| RET | Romain Grosjean | Renault | 19 | crash, 0 laps | 0 |
| RET | Lewis Hamilton | McLaren-Mercedes | 12 | crash, 0 laps | 0 |
| RET | Jaime Alguersuari | Toro Rosso-Ferrari | 17 | crash, 0 laps | 0 |
Image: Force India