Prediction game: Round 13 – Italy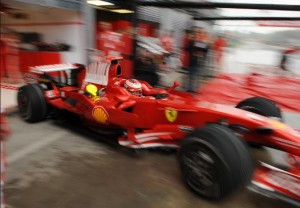 Two weeks ago, an eventful Belgium Grand Prix saw Force India pick up their first pole position, points and podium.
However, the man that delivered all three of those firsts will be driving a Red Car on Sunday.
With Giancarlo Fisichella moving to Ferrari, Force India's test driver, Tonio Liuzzi, has been promoted to a race seat alongside Adrian Sutil and he is keen to show that he is worth a full time drive.
Speaking to Autosport he said:
This is a good opportunity for me to show what I can do.  It will be really important for me to show a good performance.
But while Force India were strong at Spa, they may find it hard to keep up with the KERS powered McLarens, Ferraris and Renaults (who are refitting the device for Monza.)
Mercedes motor sport boss Norbert Haug thinks the Italian Grand Prix will be the closest race of the year:
Together with Monaco, Monza is the most untypical Formula One track.  But whilst Monaco is a street course with the lowest average speed, Monza is a high-speed circuit at more than 250kph average, whilst the top speed in the dry will probably exceed 350kph this year.  During the forthcoming race we will possibly see the closest field in Formula One history.
The last six races have seen six different drivers on the top step so predicting who is going to take the chequered flag at Monza is not going to be easy but to make your predictions in round 13 of the F1 Buzz prediction game (and be in with a chance to win some nice prizes), just leave a comment on this post with your driver predictions for the race in the following format:
Pole:
First:
Second:
Third:
Fastest lap:
Remember, the deadline for entries is start of qualifying on Saturday, that's 12:00 GMT.
Good luck!
Image: Ferrari