Prediction game: Round 6 – Monaco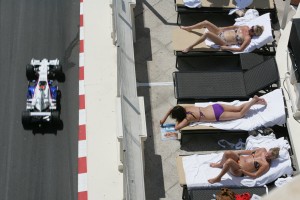 80 years ago, H.S.H. Prince Pierre of Monaco, grandfather of H.S.H. Prince Rainier III, formally opened the circuit of the 1st Grand Prix de Monaco.  That race was won by Englishman (and special agent) William Grover-Williams, driving a 2.3 litre supercharged Bugatti 35.
This Sunday, two more Englishmen will be fancying their chances at winning the world's most glamourous motor race on a track that has remained largely unchanged since 1929.
Jenson Button has won four of the first five races this year so he remains a favourite but Lewis Hamilton has a much better chance of finishing on the podium in Monte Carlo than he did in Barcelona.  McLaren have won at Monaco 15 times – more than any other team and it is Hamilton's favourite circuit:
The sensation you get from racing up the hill at 175mph, trying to make as straight a line as possible between the barriers while just shaving them with the walls of the tyres is unbelievable – the best sensation you could ever have in a Formula 1 car.  There's an expectation that Monaco will be another good circuit for our car package because the combination of low-speed corners and absence of any really fast stuff should suit MP4-24.
But the uniqueness of Monaco means that any of a number of drivers could score a the podium.
Adrian Sutil managed to drive his Force India up to fourth last year before an out of control Kimi Raikkonen ploughed into him.  A podium is unlikely but could Force India score their first points on Sunday?
Ferrari, like McLaren, are keeping the KERS on their car, although its effectiveness on the tight circuit remains to be seen.  Their pace looked good in Spain so if there are no more tactical screwups in qualifying the Red Cars might do well.
Red Bull is also a threat.  Sebastian Vettel is the only driver apart from Button to have stood on the top step this year and Mark Webber has done well on the streets of Monte Carlo in the past, finishing third for Williams in 2005.  If they can get the new double diffuser fitted to the RB5 in time it will only increase their chances of a good result this weekend.
Who do you think will win?
To make your predictions in round 6 of the f1buzz prediction game (and be in with a chance to win some nice prizes), just leave a comment on this post with your driver predictions for the race in the following format:
Pole:
First:
Second:
Third:
Fastest lap:
Remember, practice is on Thursday in Monaco and the deadline for entries is start of qualifying on Saturday.  Good luck!
Image: BMW AG