Prediction game: Round 14 – Singapore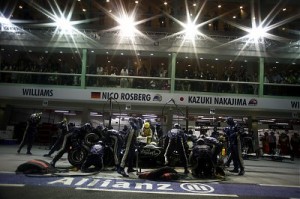 With all the Renault controversy it's easy to forget we still have a race this weekend.
Although we now know the result was fixed I loved last year's Singapore Grand Prix.  Formula One's first night race looked fantastic under lights and gave a chance to see things you would normally miss such as the red hot glowing exhaust pipes and the showers of sparks as the cars bottomed out on the bumpy circuit.
There are only four races left and unless something goes very wrong it seems almost certain that Jenson Button will be crowned champion but, despite being 28.5 points behind the leader, Red Bull's Mark Webber hasn't given up yet:
We're hoping for a change in fortune in Singapore – the street circuits haven't been a happy hunting ground for us so far this year. It's certainly not going to be a piece of cake, but we're doing our absolute utmost to get back towards the front again.
One thing we haven't experienced at night yet is bad weather.  Thunderstorms are always a possibility in that part of the world and it is unclear how drivers' visibility would be affected in the event of rain.
McLaren will be bringing their final upgrades to Singapore before concentrating on next year's car and the tight and twisty, high-downforce circuit should suit the MP4-24.  Last year Lewis Hamilton had a Championship to worry about and so had to be a bit conservative.  Now he is just out to win as many races as possible between now and the end of the year:
I remember my race in Singapore last year was all about damage limitation – I was driving with one eye on the world championship and wasn't going to take too many risks. I was happy to finish on the podium. This year, it's very different – I know I'm out of the title hunt and I want to attack these last four races, pushing for as many victories as I can.
To make your predictions in round 14 of the F1 Buzz prediction game (and be in with a chance to win some nice prizes), just leave a comment on this post with your driver predictions for the race in the following format:
Pole:
First:
Second:
Third:
Fastest lap:
Remember, the deadline for entries is start of qualifying on Saturday, that's 14:00 GMT.
Good luck!
Image: Williams