Prediction game: Round 15 – Japan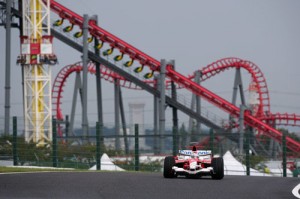 This weekend Formula One returns to Suzuka for the first time since 2006.
One of the great circuits of the world, the unique figure-8 track is up there with Spa in the affections of both drivers and fans.
Lewis Hamilton dominated the high downforce Singapore Grand Prix last weekend but McLaren are unlikely to do as well at the higher speed Suzuka circuit.
This weekend will be Lewis Hamilton's first experience of Suzuka.  He won at Fuji in 2007 but so far has only experienced Suzuka virtually:
It feels like I've been waiting my whole life to race at Suzuka – so, as you can imagine, I'll be really excited when practice starts there on Friday morning. Ever since I was a kid, I've raced Suzuka on computer games – and while it kind of gives you an idea of how the circuit goes, nothing can beat the real thing.
Despite not having won a race since Turkey in June, Jenson Button still enjoys a 15 point lead over his nearest rival, team mate Rubens Barrichello.  There are now only three races left and in theory Button could seal the title in Japan but in the press conference on Thursday Jenson said he was only thinking of the race:
There are so many possibilities this weekend. There are still three people who can still challenge for the championship. I am one of them, and the most important thing for me to do is work as hard as I can on Friday and Saturday to get the car ready for qualifying and the race and have a good race, the same as all of these guys. I shouldn't be thinking about anything else.
One possibility this weekend is rain.  So far it looks like it will be wet on Friday and Saturday but probably dry for the race.
To make your predictions in round 15 of the F1 Buzz prediction game (and be in with a chance to win some nice prizes), just leave a comment on this post with your driver predictions for the race in the following format:
Pole:
First:
Second:
Third:
Fastest lap:
Remember, the deadline for entries is start of qualifying on Saturday, that's 05:00 GMT.
Good luck!
Image:  Toyota