2010 Formula One Calendar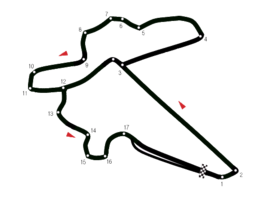 Along with the Renault verdict, the FIA also slipped out a couple of small but important pieces of information in a press release on Monday.
Firstly, the 2010 Formula One calendar has been announced.  And it's big.  There will be 19 races next year!
As well as a welcome return to Canada in June, October will see the inaugural Korean Grand Prix to be held at the Korean International Circuit.  Located some 400 kilometres from Seoul and designed by Hermann Tilke (who else?) the semi-permanent track will be built partly along the harbourside.  Will it be another Monaco or Valencia?
Brazil takes over the final race again in November and Bahrain moves to the season opener on 14 March.  Here is the full calendar:
2010 FIA Formula One World Championship
14/3
28/3
04/4
18/4
09/5
23/5
30/5
13/6
27/6
11/7
25/7
01/8
29/8
12/9
26/9
03/10
17/10
31/10
14/11
BRN
AUS
MAL
CN
E
MC
TR
CDN
E
GB
D
H
B
I
SGP
J
K
AE
BR
Bahrain
Australia
Malaysia
China
Spain
Monaco
Turkey
Canada*
Europe (Valencia)
Great Britain
Germany
Hungary
Belgium
Italy
Singapore
Japan
Korea
Abu Dhabi
Brazil
*Subject to the completion of contract negotiations with Formula One Management. If these are not completed then the Turkish Grand Prix will be moved to 6 June.
Note: The race in Australia will start at 1700 local time, in Malaysia at 1600 local time, in Singapore at 2000 local time, and in Abu Dhabi at 1700 local time.
The second little detail was the fact that teams will be permitted to modify engines to achieve performance parity — but only by detuning.  This seems a crazy idea that goes completely against the spirit of Formula One.
It would mean that Mercedes (who clearly have the best engine at the moment) would have to knock off 20-30hp of performance so that the Toyota and Cosworth (based on a 2006 design) engines could be competitive.
It will now be up to the teams to decide whether they want to go down this route.  The FIA have washed their hands of the matter:
Following suggestions that there is a differential between the performance of engines used in Formula One, the World Motor Sport Council has decided that should this be the case, and should the teams wish to eliminate this performance differential, they may be allowed to do so by reducing the performance of the more powerful engines. However, no engine upgrades will be allowed.
I would rather see the engines stay as they are than be purposely made to go slower.
Image: Wikipedia