Prediction game: Round 6 results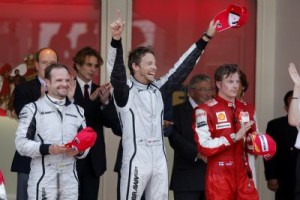 It seems like you can't go wrong with backing Brawn GP this year.  Everybody in the f1buzz prediction game expected either Jenson Button or Rubens Barrichello to be on the podium in Monaco and that's exactly what happened.
The biggest winner was Mark who correctly predicted a Button-Barrichello 1-2 and moves up to third place, but in the one race where Ferrari looked reasonable, nobody picked the Red Cars for anything.  Andrew maintains his 7 point lead in the standings.
It was a fairly unusual Monaco Grand Prix in that there were no safety car periods so the race was over quite quickly.  The sunny conditions and lack of any big accidents also had the effect of spreading the field out.  But there is still no other race like Monaco and I was lucky enough to be there this year.
If you are thinking of going, I can definitely recommend it.  No other track gets you so close to the cars and the atmosphere in Monte Carlo is fantastic.  I had tickets in grandstand K at Tabac and could see all the way from the tunnel to the swimming pool.  These tickets also gave access to the pit lane on Friday.
There are a few of my pictures in the Facebook group already and I'll be adding more soon.
The next race is Turkey in 10 days time at the fatastic Istanbul Park.
Image: Brawn GP