Prediction game: Round 11 – Europe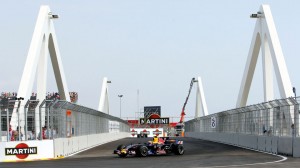 Formula One returns from a four week break for the European Grand Prix at Valencia this weekend and there will be a couple of new faces on the grid.  Unfortunately, Michael Schumacher's won't be one of them.
Michael had planned to take over from Felipe Massa until the Brazilian was fit to race again but later had to announce that, due to an earlier motorcycling accident, his neck wouldn't be up to the G-forces of Formula One. Instead, Ferrari's test driver, Luca Badoer, will drive the other Red Car in Valencia — ten years after his last Formula One Grand Prix.  Needless to say, expectations aren't too high, even from Badoer himself:
It will effectively be a test session for me, but I will be trying my best to secure a good result.
After successfully converting their one-race ban into a $50,000 fine for sending Fernando Alonso out on three wheels in Hungary, Renault have announced that Romain Grosjean will replace Nelson Piquet Jr for the rest of the season. Grosjean has won two races in GP2 this year but has also been involved in a number of incidents — I was sitting in the grandstand at Tabac in Monaco this year when he launched his car halfway over the barrier a few metres away. It will be interesting to see if he does any better with the R29 than Piquet.
McLaren will be looking to take a second straight victory in Valencia, something which looks perfectly possible now that they seem to have sorted out their aerodynamic problems. McLaren boss, Martin Whitmarsh, believes their KERS now gives them a formidible advantage:
Now there is no doubt that KERS is an advantage. We have potentially a small lap time advantage, we have an overtake or defend advantage and certainly, if we can get near the front of the grid, then we have a launch advantage.
But while McLaren may be challenging for the win, the real competition is between Red Bull and Brawn GP. Will the work Brawn have put in at the factory be enough to recover from their recent poor performances or will Red Bull continue their charge?
To make your predictions in round 11 of the F1 Buzz prediction game (and be in with a chance to win some nice prizes), just leave a comment on this post with your driver predictions for the race in the following format:
Pole:
First:
Second:
Third:
Fastest lap:
Remember, the deadline for entries is start of qualifying on Saturday, that's 12:00 GMT.
Good luck!
Image: Red Bull Racing