Piquet's out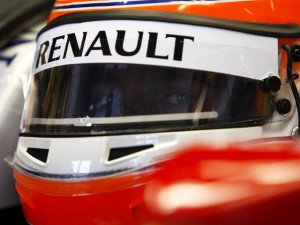 "Flavio is a business man, but he doesn't understand shit about F1."
When Nelson Piquet Jr said that, we knew he wasn't much longer for Renault and on Monday he confirmed that he had been told his services would no longer be required.
All season there has been a question mark over the young Brazilian and his future in Renault and Formula One.
At the Hungarian Grand Prix Flavio Briatore was seen leaving the circuit after Alonso had retired but Piquet was still running.
There has been no official comment from the team but Piquet posted a lengthy statement on his website:
I have received notice from the Renault F1 team of its intention to stop me from driving for them in the current F1 season. I want to say thanks to the small group who supported me and that I worked together at Renault F1, although it is obviously with great disappointment that I receive such news. But, at the same time, I feel a sense of relief for the end of the worst period of my career, and the possibility that I can now move on and put my career back on the right track and try to recover my reputation of a fast, winning driver. I am a team player and there are dozens of people I have worked with in my career who would vouch for my character and talent, except unfortunately the person that has had the most influence on my career in Formula 1.
Piquet confirmed that he had signed a contract requiring him to score 40% of Alonso's points by mid-season but said that the development of his car was always one race behind the double World Champion's:
For the 2009 season Briatore, again acting both as my manager and team boss of Renault F1, promised me everything would be different, that I would get the attention I deserved but had never received, and that I would get 'at least equal treatment' inside the team. He made me sign a performance-based contract, requiring me to score 40% of Fernando Alonso's points by mid-way through the season. Despite driving with Fernando, two-time world champion and a really excellent driver, I was confident that, if I had the same conditions, I would easily attain the 40% of points required by the contract.

Unfortunately, the promises didn't turn into reality again. With the new car I completed 2002km of testing compared to Fernando's 3839km. Only three days of my testing was in dry weather – only one of Fernando's was wet. I was only testing with a heavy car, hard tyres, mostly on the first day (when the track is slow and reliability is poor), or when the weather was bad. Fernando was driving a light car with soft tyres in the dry, fine conditions. I never had a chance to be prepared for the qualifying system we use. In Formula 1 today, the difference between 1st and 15th position is sometimes less than a second. It means that 0.2 or 0.3s can make you gain eight positions.

In addition to that, car development is now happening on a race-to-race basis due to the in season testing ban. Of the first nine races that I ran this year, in four of them Fernando had a significant car upgrade that I did not have. I was informed by the engineers at Renault that in those races I had a car that was between 0.5 and 0.8s a lap slower than my teammate. If I look at Germany (where I out-qualified my teammate despite that), if I had that advantage in qualifying I would be fifth and not tenth. If we had that difference in the race, I would have finished ahead of my teammate, which I did in Silverstone, despite him having upgrades that I did not have.
It has been suggested that Piquet's three-time World Champion father could take over the BMW Sauber team when BMW withdraw from Formula One at the end of the year.  He has had experience running the Piquet Sports team with which Piquet Jr raced in F3 and GP2.  In 2006, Piquet Jr came second in the GP2 Championship, just 12 points behind Lewis Hamilton.
I feel sorry for Nelsinho.  In fact, I feel sorry for anyone who has to work for Flavio Briatore and I hope he gets another shot at Formula One next year.  His performances in other racing series suggest he is a talented driver and with 56,000 twitter followers he is clearly quite popular.
But then again, how many other talented drivers are out there?  With only 26 seats available people are always going to miss out.