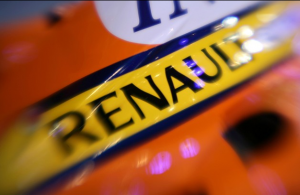 The World Motor Sport Council met in Paris today to decide Renault's punishment for asking Nelson Piquet Jr to deliberately crash during the 2008 Singapore Grand Prix.
They got off pretty lightly, I think.
Even though the FIA thinks that "offences of this severity merit permanent disqualification from the FIA Formula One World Championship", that penalty was suspended for two years.  All Renault had to do was admit it was wrong, say sorry and sack the people responsible.  Oh, and make a "significant contribution to FIA safety-related projects."
So, no fines, no loss of constructors points and no real ban for the team.  I suppose it is understandable.  After the loss of Honda and BMW, the FIA will do just about anything to prevent any more constructors pulling out of Formula One.  If Renault were to be forced out it would also negatively impact teams like Red Bull who are engine customers.
But if Renault as a team were let off lightly, the FIA really threw the book at Flavio Briatore and Pat Symonds.
Briatore got, in effect, a lifetime ban from professional motor sport:
for an unlimited period, the FIA does not intend to sanction any International Event, Championship, Cup, Trophy, Challenge or Series involving Mr. Briatore in any capacity whatsoever, or grant any license to any Team or other entity engaging Mr. Briatore in any capacity whatsoever. It also hereby instructs all officials present at FIA-sanctioned events not to permit Mr. Briatore access to any areas under the FIA's jurisdiction.  Furthermore, it does not intend to renew any Superlicence granted to any driver who is associated (through a management contract or otherwise) with Mr. Briatore, or any entity or individual associated with Mr. Briatore
So not only is he banned from all FIA events, he can no longer even manage drivers.  The WMSC have cast him out of the FIA paradise, utterly.
Pat Symonds gets it a little easier, but not much.  Due to him expressing his "eternal regret and shame" that he participated in the conspiracy, he gets a 5 year ban.
Fernando Alonso was cleared of any knowledge of the plot.
After the judgement, Renault F1 Team president Bernard Rey issued the following statement:
Today, we fully accept the decision of the Council. We apologize unreservedly to the F1 community in relation to this unacceptable behaviour. We sincerely hope that we can soon put this matter behind us and focus constructively on the future.
And what of Nelson Piquet Jr?  In a statement on his blog he said:
I bitterly regret my actions to follow the orders I was given. I wish every day that I had not done it.

Mr Briatore was my manager as well as the team boss, he had my future in his hands but he cared nothing for it. By the time of the Singapore GP he had isolated me and driven me to the lowest point I had ever reached in my life.
I feel sorry for Piquet.  Obviously he should have refused to crash his car but he was clearly under intense pressure and it didn't help that his team boss and his manager was a total ass-hat.
Who knows what will happen to him now?  He has immunity from the FIA so in theory he could race again, something he clearly wants to do:
I have had to learn some very difficult lessons over the last 12 months and reconsider what is valuable in life. What has not changed is my love for Formula One and hunger to race again. I realise that I have to start my career from zero. I can only hope that a team will recognise how badly I was stifled at Renault and give me an opportunity to show what I promised in my career in F3 and GP2. What can be assured is that there will be no driver in Formula One as determined as me to prove myself.
The trouble is, there are so many talented drivers and so few seats in Formula One that if you screw up just once, that's it.