Prediction game: Round 5 – Spain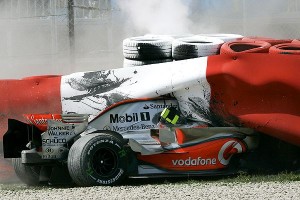 After a two week break Formula One returns to Europe for the Spanish Grand Prix this weekend.
Jenson Button has dominated the opening races but most teams will be heading to Barcelona with significant upgrades so expect Toyota and Red Bull to be nipping at Brawn's heels.
While McLaren, Renault and Force India have already run interim double-decker diffusers, Spain will see Ferrari deploying their version and we will find out if Adrian Newey has managed to wrap a new diffuser around the Red Bull's fancy rear suspension.
BMW have abandoned KERS for now and are hoping a significant aero update (although without a double-diffuser) can salvage their terrible start to the season.  BMW Motorsport Director Mario Theissen is optimistic:
The aerodynamic package we will line up with in Barcelona is extensive and affects practically every part of the car.  That is why I am convinced that we will take the first step in Barcelona.  We are expecting to be more than half a second quicker per lap.
Heikki Kovalainen still can't remember anything about the 2008 Spanish Grand Prix after parking his car in the wall but the high-downforce Circuit de Catalunya probably won't suit the McLaren.  Lewis Hamilton will be hard pressed to equal his fourth place in Bahrain but having the best KERS on the grid might help.
To make your predictions in round 5 of the f1buzz prediction game, just leave a comment on this post with your driver predictions for the race in the following format:
Pole:
First:
Second:
Third:
Fastest lap:
The deadline is start of qualifying on Saturday.  Good luck!