Prediction game: Round 1 – Australia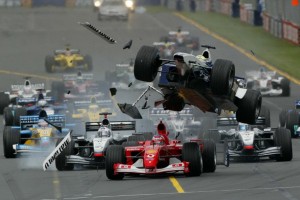 It's been nearly five months since Lewis Hamilton passed Timo Glock on the last lap of the last Grand Prix of 2008 to claim the World Drivers' Championship but the wait is nearly over.  Winter testing in Europe and the Middle East has finished and twenty racing cars have been boxed up and flown to Australia where teams of engineers are preparing them to hit the track on Friday.
Melbourne's Albert Park Circuit will see Formula One's first ever twilight race on Sunday and it promises to be a thrilling start to the season but the outcome of the race is anything but certain.  Will the new over-size front wings be smashed to pieces as drivers dive for the first dusty corner?  Will McLaren reveal they've been sandbagging in testing and blow everyone away like they did in 1998?  Will those teams who decide to run KERS suffer reliability problems or will it give them an overtaking advantage?  Will Brawn GP finish 1, 2 (only to have them taken away when Red Bull make an official protest over their fancy diffuser?)  And will the high-tech RB5 finally give Mark Webber a decent finish in Australia or will he be outdone by his new team mate Sebastian Vettel?
All these questions and more will be answered on Sunday but now is your chance to predict the future in the 2009 Formula One World Championship f1buzz.net prediction game!
The rules are simple. Just leave a comment on this post with your driver predictions for the race in the following format:
Pole:
First:
Second:
Third:
Fastest lap:
Points will be awarded like this:
Predict pole position: 5 points
Predict 1st: 10 points
Predict 2nd: 8 points
Predict 3rd: 6 points
Predict correct driver on podium but not in correct position: 3 points for each driver
Predict fastest lap: 5 points
You can enter up until the start of qualifying on Saturday.  Don't worry if you have already entered your predictions on a previous post they will still be counted!
Good luck and enjoy the race!