Prediction game: Round 4 – Bahrain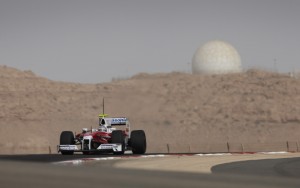 This weekend's Bahrain Grand Prix looks set to be the first 'normal' Grand Prix of the season; Australia finished under the safety car, China started under the safety car and Malaysia was a total wash-out.  The weather forecast for Bahrain though is hot and dry which should favour the Brawn GP cars.  As long as there are no sand storms…
Sebastian Vettel and Mark Webber had the measure of Brawn in the wet last weekend but Button and Barrichello were faster in qualifying so they go to Bahrain as  favourites.
Ferrari tested in Bahrain over the winter so they will be hoping that experience will give them an advantage but if the Red Cars finish out of the points again it will make for Ferrari's worst start to a Grand Prix season in history.
Force India are the only other team yet to score a point but they will be taking a new diffuser with them to Bahrain as well as some other aero updates.  Even so, team boss Vijay Mallya isn't confident of scoring on Sunday:
As usual, we know points are going to be very difficult to achieve and we should not set this as a goal for Bahrain. Instead, we need to focus once more on reliability and consistency and look to be there if circumstances allow.
Will Brawn GP return to their winning ways or will Red Bull score their second win?  Will McLaren continue their improvement from China or will they suffer some crazy penalty from the race stewards?  Will Ferrari remember how to go fast or will Kimi Raikkonen not even bother to race and sit in the garage eating ice creams and looking bored?
To have your say in round 4 of the f1buzz prediction game, just leave a comment on this post with your driver predictions for the race in the following format:
Pole:
First:
Second:
Third:
Fastest lap:
The deadline is start of qualifying on Saturday.  Good luck!