Sandstorms forecast for Sakhir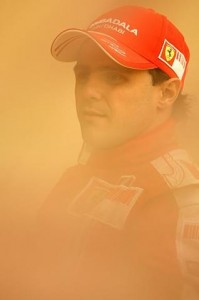 Andrew points to a tweet by James Allen saying that sandstorms could disrupt the Bahrain Grand Prix this weekend.
In February, Ferrari, Toyota and BMW headed to the Sakhir circuit hoping to escape the storms that had washed out winter testing in Europe.  Instead, they found themselves twiddling their thumbs waiting for a different kind of storm to pass.  It wasn't neccessarily that the track was undrivable in the dusty conditions but visiblity was such that the medical helicopter was grounded and therefore testing was red-flagged until the sandstorm passed.
Let's hope it is a clear day on Sunday.  We are yet to see a 'normal' race this year and, while rain always has the potential to make an interesting race, if sandstorms hit the Sakhir circuit the race would have to be red-flagged until the air cleared.
Bahrain could also face the same problem as Malaysia in that the race starts at 3:00pm local time.  With the sun setting at about 6pm that doesn't leave much time to delay the race before running out of light.