Sandstorms in Bahrain, Webber in Jerez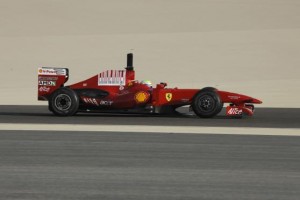 BMW, Toyota and Ferrari must be wondering whether it was such a good idea to abandon Jerez to test at Bahrain's Sakhir circuit.
Wednesday's morning test session was red-flagged when a sandstorm prevented the medical helicopter from taking off.  The same thing happened on the opening day of testing on Tuesday when the helicopter was grounded by fog.
After the first group test in Portimao was disrupted by heavy rain the three teams were hoping for some fine weather to justify the hundreds of thousands of pounds extra it costs to test in the Middle East but the outlook for the rest of Wednesday doesn't look good.  Even if the wind stops the track will have to be cleared of sand so the teams might not be able to continue testing until Thursday.
Meanwhile, back in Spain, Mark Webber has climbed into an F1 car for the first time since breaking his leg in a cycling accident three months ago.  He took the new Red Bull RB5 out onto the Jerez circuit for the first time on Wednedsay.
Image: Ferrari S.p.a.