Red Bull release RB5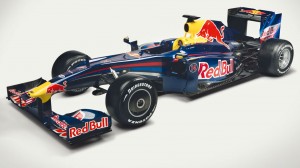 Red Bull Racing have unveiled their 2009 Formula One car, the RB5, at Jerez today. We saw an animated preview of the car last week when Red Bull released a video describing the rule changes for 2009.
The massive changes in rules for 2009 meant that designer Adrian Newey went back to the drawing board for the new car; almost nothing is carried over from last year's RB4.
Newey has produced an exciting looking car. The front wing looks more advanced than some other teams and the long, high nose features two bulges above the wheels. The rear wing somehow looks more in proportion than other cars, too.
While the new rules, which include aerodynamic changes, a return to slicks and the introduction of KERS, are intended to improve overtaking, Newey thinks the field could actually be more spread out than last year:
Last year the entire field was very close, with a very tight grid and five different chassis manufacturers winning races. A major rule change is likely to have the opposite effect, just one or two teams get it right and do all the winning.
Newey should know. In 1998 he designed the championship-winning McLaren MP4/13 after a number of rule changes including the introduction of grooved tyres and narrower cars. That year the McLarens of Mikka Hakkinen and David Coulthard dominated the field.
Red Bull will be hoping the RB5 has the same effect allowing them to match their sister team's efforts of 2008 when Sebastian Vettel won at Monza for Toro Rosso.