Webber and Vettel rip through the rulebook in the RB5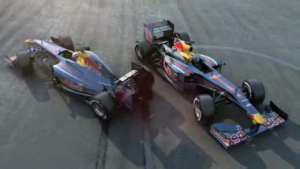 The new Red Bull Racing RB5 is set to be launched on Monday but the team have released a preview video showcasing the new Adrian Newey designed car.
In the animated video, narrated by Sebastian Vettel, the 2008 RB4 morphs into the new look RB5 as each of the rule changes are discussed.
The car also explodes to show the battery-based Kinetic Energy Recovery System (KERS.)
Vettel's team mate, Mark Webber, thinks the new RB5 will be one of the most beautiful of the 2009 cars, he told the Austrian paper Salzburger Nachrichten:
[The RB5 is] perhaps the most beautiful of the 2009 class, which under the new regulations was pretty difficult.
How similar the car will look in the flesh will be revealed on Monday but it seems like quite a nice looking car; maybe not as pretty as the McLaren or Ferrari but definitely better than Renault and BMW's efforts.
21-year-old Vettel will be first to drive the new car on Monday at Jerez with Webber taking over later in the week.

Video: Red Bull Racing