Toro Rosso confirm Bourdais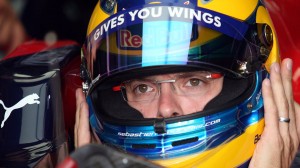 Frenchman Sebastien Bourdais will return for a second season at Toro Rosso this year.  This means that, barring Honda's return, all F1 seats are filled for 2009.  It also means that for a second year in a row both Toro Rosso drivers will be called Sebastien.
While team-mate Sebastien Buemi was confirmed at STR last month, both Bourdais and former Super Aguri driver Takuma Sato were competing for the second seat.
Despite Sato performing well in testing, it seems money was the deciding factor in choosing to go with Bourdais.  With two teams to run, Red Bull needed a driver who could bring in the lucre.  Sato's manager Andrew Gilbert-Scott:
Taku had showed tremendous speed and commitment during the three tests he did for the team and I believe he proved to be the faster driver. Unfortunately however the team made no secret about the fact that they would need the drive to bring a substantial amount of funding to the team to secure the drive. We have all been working very hard and have been able to attract a significant amount of sponsorship to support the team but unfortunately it was obviously not enough to secure the drive.
Scuderia Toro Rosso Team Principal Franz Tost said:
We are pleased that Sebastien will be with us again for another season. After one year with Toro Rosso, we expect him to profit from the experience he gained last season. He now knows the F1 environment, the race tracks and the team. In addition, the slick tyres, which make a comeback this year, should suit his driving style very well. Therefore he will tackle the coming season with much more experience under his belt. This will be especially valuable given that our other driver, Sebastien Buemi, is an F1 rookie, who has come up through the ranks of the Red Bull Junior Driver programme.
So Taku joins the ranks of talented drivers without a seat in Formula One this year.  Speaking on Friday, Sato said he still feels he has "unfinished business in F1".
If the Team Formerly Known as Honda manage to find a buyer could Sato find a job there?  They will obviously want to retain Jenson Button but is Rubens Barichello's seat so secure?  Sato has a history with Honda and as I've said before, I'd like to see him on the grid this year.