Toro Rosso launch STR4 (Pictures)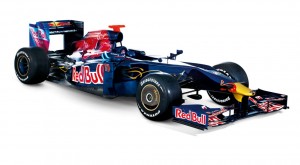 I like a press release with swear words in it. In the "rather impressive press kit" accompanying Toro Rosso's launch of their new car they reveal that Red Bull's motives for taking over the Minardi team in 2005 were that they "just liked pissing people off by buying a second team."  Nice.  STR have their own unique style.
What is not so unique is their 2009 F1 car, the STR4, which was rolled out at the Circuit de Catalunya just outside Barcelona on Monday morning.  At first glance it looks like a carbon copy of the RB5 and, indeed, it uses the same Adrian Newey designed chassis as the  Red Bull car.  But acording to Toro Rosso's Technical Director, Giorgio Ascanelli, the STR4 is not just a rebadged RB5:
It's a common misconception that before the start of the season a big truck turns up in Faenza from Milton Keynes, its back door folds down and, hey presto, a fully-built Toro Rosso car rolls out. In fact, Scuderia Toro Rosso has far more control over its technical destiny, right from the design stage through to construction.
I guess most of the differences are under the skin though because it's going to be hard to tell these two cars apart on the track.  Replacing the Red Bull's Renault engine with Ferrari power caused a lot of redesign of the internal plumbing as Ascanelli explains:
Different engines have different heat rejection and different operating temperatures, with materials specified to different levels. Also, the tolerances, which you have to respect when building an engine, are tuned in such a way that an engine works at its best within a defined temperature range. This in itself conditions the radiators and also all of the internal aerodynamics. That then impacts on the aero side and this work is also done in Faenza.
All of this in-house design work will be good preparation for the team.  Next year, the Toro Rosso customer car exemption will run out and the team will have to design and build their own car from scratch.
Pictures of the new car below: