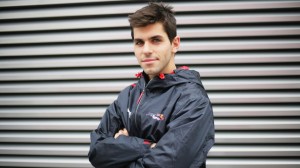 The worst kept secret in Formula One is now official.  Jaime Alguersuari will replace Sebastien Bourdais at Toro Rosso from the Hungarian Grand Prix this weekend.
The Spaniard has been competing in World Series by Renault and is the reigning British F3 Champion.  He will also be 19 years, 4 months and 3 days old on Sunday 26 July.
This will make him the youngest ever driver to compete in the Formula One World Championship, beating the previous record held by New Zealander Mike Thackwell of 19 years, 5 months and 1 day although this record is debatable.
Thackwell did line up on the grid at the 1980 Dutch Grand Prix but he was involved in an accident on the first lap which caused the race to be restarted.  According to the regulations, if a race is stopped on the first lap, that lap is annulled and the race is started again.  As Thackwell's car didn't make it to the grid for the restart, technically his first race was not until four years later.
This means the record was really held by Ricardo Rodríguez, the brother of Mexico's only Grand Prix Winner Pedro Rodríguez, who was 19 years, 6 months and 27 days when he started the 1961 Italian Grand Prix.
Sebastian Vettel remains the youngest Formula One driver to appear at a race weekend, though.  In August 2006 he was BMW's Friday driver at the Turkish Grand Prix when he was just 19 years, 1 month and 22 days old.
It is going to be hard for Alguersuari to make his debut half way through the season when he has never driven the car before and will have zero testing time but he seems to know what he is getting himself in for:
I am aware that I'm facing a very tough challenge, because coming into Formula One is never easy, coming into Formula One in the middle of a season is even harder and doing so without any testing is really difficult. But already I feel that I am getting great support from the team, who have quite a reputation for looking after rookie drivers.
Team boss Franz Tost seems to have limited expectations anyway:
I do not expect anything from him for at least his first three races, during which he has to get used to the car, the team and to the Formula One environment.
It seems a strange choice to me to drop (an admittedly struggling) Sebastien Bourdais for a rookie halfway through the season.
Toro Rosso will be bringing their new double diffuser to the Hungaroring this weekend.  It will be interesting to see what the two young drivers can do with it.
Image: Getty