Prediction game: Round 7 results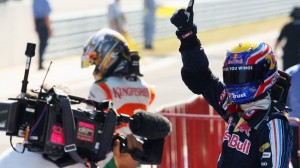 The results are up for round 7 of the f1buzz prediction game and they show once again that practice times are not necessarily a good indicator of race performance.
Everyone except Sergio wanted to see Felipe Massa, if not winning his fourth Turkish GP in a row, then at least on the podium.  In the end it seems Ferrari just have a lot more work to do before they can win races again.
Andrew scored the most points, correctly picking Button and Vettel for a podium.  He maintains his lead with a 10 point gap over Sergio while Mark had another good week picking up 5 points for Button's fastest lap.
The next race is the British Grand Prix in two weeks time and there are plenty of points left so anyone still can win!
Image: Getty / Red Bull