Button on another planet in Turkey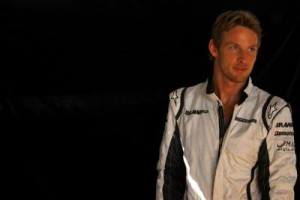 In the words of second place finisher Mark Webber, Jenson Button was "on another planet" today as he stormed to another crushing victory in the Turkish Grand Prix.
Starting in second place on the dusty side of the track, Jenson stayed behind pole sitter Sebastian Vettel through the first lap until turn 9 when Vettel ran wide.  That was all the opportunity Button needed to take the lead and from then on he drove a perfect race.
Sebastian Vettel managed to close in on Button in his second stint but couldn't get past and Red Bull's choice to keep him on a two stop strategy saw team mate Mark Webber pass him during his second pit stop.
Rubens Barrichello had a bad start losing 10 places off the grid due to a clutch problem.  His day went from bad to worse when, after a great battle with Heikki Kovalainen and several attempts at putting his car in places it wouldn't fit, he retired on lap 47 with a gearbox problem – the first Brawn retirement of the season.
Despite finishing 13th, a smiling Lewis Hamilton "thoroughly enjoyed the race":
It was quite an uneventful race but I actually enjoyed myself this afternoon.  I was very heavy at the start but I just pushed and pushed.  That's why I can smile – because I think I drove to my full potential.  The most important thing is for us to keep our heads up and to keep pushing.
There has been a big change in Hamilton's attitude since the beginning of the season.  After the controversy of Australia, Lewis's post race interviews were monosyllabic and he looked very unhappy with himself and his team.  Now,  he seems to be enjoying racing again.  It is as if Button and Hamilton have switched positions this year.  Last year it was Jenson that was always putting a positive spin on his team's terrible performance.
Now that Lewis has given up all hope of retaining the Championship he can relax and concentrate on developing and getting the most out of his car.
2009 Turkish Grand Prix Race Results
| Pos | Driver | Team | Grid | Time | Points |
| --- | --- | --- | --- | --- | --- |
| 1 | Jenson Button | Brawn-Mercedes | 2 | 1:26:24.848 | 10 |
| 2 | Mark Wbber | Red Bull-Renault | 4 | 1:26:31.562 | 8 |
| 3 | Sebastian Vettel | Red Bull-Renault | 1 | 1:26:32.309 | 6 |
| 4 | Jarno Trulli | Toyota | 5 | 1:26:52.691 | 5 |
| 5 | Nico Rosberg | Williams-Toyota | 9 | 1:26:56.387 | 4 |
| 6 | Felipe Massa | Ferrari | 7 | 1:27:04.844 | 3 |
| 7 | Robert Kubica | BMW Sauber | 10 | 1:27:11.095 | 2 |
| 8 | Timo Glock | Toyota | 13 | 1:27:11.807 | 1 |
| 9 | Kimi Raikkonen | Ferrari | 6 | 1:27:15.048 | 0 |
| 10 | Fernando Alonso | Renault | 8 | 1:27:27.248 | 0 |
| 11 | Nick Heidfeld | BMW Sauber | 11 | 1:27:29.175 | 0 |
| 12 | Kazuki Nakajima | Williams-Toyota | 12 | 1:27:31.224 | 0 |
| 13 | Lewis Hamilton | McLaren-Mercedes | 16 | 1:27:45.302 | 0 |
| 14 | Heikki Kovalainen | McLaren-Mercedes | 14 | lapped | 0 |
| 15 | Sebastien Buemi | Toro Rosso-Ferrari | 18 | lapped | 0 |
| 16 | Nelson Piquet Jr | Renault | 17 | lapped | 0 |
| 17 | Adrian Sutil | Force India-Mercedes | 15 | lapped | 0 |
| 18 | Sebastien Bourdais | Toro Rosso-Ferrari | 20 | lapped | 0 |
| RET | Rubens Barrichello | Brawn-Mercedes | 3 | retired, 47 laps | 0 |
| RET | Giancarlo Fisichella | Force India-Mercedes | 19 | retired, 4 laps | 0 |
Image: Brawn GP