Another Red Bull 1-2 in Abu Dhabi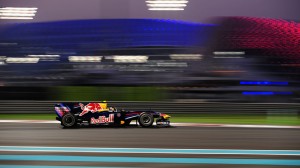 Sebastian Vettel and Mark Webber secured Red Bull's fourth 1-2 finish of the season in Abu Dhabi on Sunday.
After qualifying it looked like Lewis Hamilton would easily drive away from the two Red Bulls in the race but despite setting six consecutive fastest laps and opening a gap of two seconds on Vettel, a brake problem forced Hamilton to retire after 20 laps.
The billion dollar Yas Marina circuit looked spectacular as twilight faded into night and while there are some interesting sections to the track, including a pit exit tunnel, for the most part the race was pretty uneventful.
The most excitment came in the closing laps as Mark Webber came under attack from Jenson Button and only just managed to hold him off with some great defensive driving.
It's hard to see how an old airfield in Northamptonshire can compete with a city that sits on one-tenth of the world's oil reserves and whose citizens (not including foreign workers) are worth about $17 million each. But Sunday's race showed that while money can buy spectacular, it can't buy history and it can't neccessarily buy good racing.
2009 Abu Dhabi Grand Prix Race Results
| Pos | Driver | Team | Grid | Time | Points |
| --- | --- | --- | --- | --- | --- |
| 1 | Sebastian Vettel | Red Bull-Renault | 2 | 34:03.414 | 10 |
| 2 | Mark Webber | Red Bull-Renault | 3 | 34:21.271 | 8 |
| 3 | Jenson Button | Brawn-Mercedes | 5 | 34:21.881 | 6 |
| 4 | Rubens Barrichello | Brawn-Mercedes | 4 | 34:26.149 | 5 |
| 5 | Nick Heidfeld | BMW Sauber | 8 | 34:29.667 | 4 |
| 6 | Kamui Kobayashi | Toyota | 12 | 34:32.757 | 3 |
| 7 | Jarno Trulli | Toyota | 6 | 34:37.780 | 2 |
| 8 | Sebastien Buemi | Toro Rosso-Ferrari | 10 | 34:44.708 | 1 |
| 9 | Nico Rosberg | Williams-Toyota | 9 | 34:49.355 | 0 |
| 10 | Robert Kubica | BMW Sauber | 7 | 34:51.594 | 0 |
| 11 | Heikki Kovalainen | McLaren-Mercedes | 18 | 34:56.212 | 0 |
| 12 | Kimi Raikkonen | Ferrari | 11 | 34:57.731 | 0 |
| 13 | Kazuki Nakajima | Williams-Toyota | 13 | 35:03.253 | 0 |
| 14 | Fernando Alonso | Renault | 15 | 35:13.014 | 0 |
| 15 | Vitantonio Liuzzi | Force India-Mercedes | 16 | 35:37.814 | 0 |
| 16 | Giancarlo Fisichella | Ferrari | 20 | lapped | 0 |
| 17 | Adrian Sutil | Force India-Mercedes | 17 | lapped | 0 |
| 18 | Romain Grosjean | Renault | 19 | lapped | 0 |
| RET | Lewis Hamilton | McLaren-Mercedes | 1 | retired, 20 laps | 0 |
| RET | Jaime Alguersuari | Toro Rosso-Ferrari | 14 | retired, 18 laps | 0 |
Image: Red Bull