Brawn GP domination continues in Spain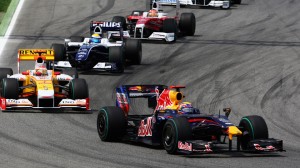 In an unusually eventful Spanish Grand Prix, Jenson Button and Rubens Barrichello continued the domination of Brawn GP with another 1-2 finish.
Despite starting from the second row of the grid, Barrichello had a great start and passed both Sebastian Vettel and Jenson Button to take the lead into the first corner.  Meanwhile, Nico Rosberg squeezed Jarno Trulli off the track causing the Italian to lose control and plough into the Force India of Adrian Sutil.  As carbon fibre scattered across the track, the two Toro Rossos had a coming together and by the end of the first lap the safety-car was out and all four drivers had retired.
When the safety-car came in, Fernando Alonso performed a spectular KERS-powered overtaking move on Mark Webber, only for the Australian to take the place back with an equally spectacular lunge up the inside.  Webber went on to finish third, ahead of team mate Sebastien Vettel who for most of the race couldn't get past the KERS-powered Ferrari of Felipe Massa.
Vettel:
I was stuck behind him [Massa] for almost all of the race.  He was impossible to pass, he did a very good job with no mistakes.  It's obviously disappointing as my car was quick today, but I couldn't finish on the podium.
Massa eventually slipped back to 6th after a refuelling problem left him with one lap less fuel than he needed to finish the race, forcing him to slow down to conserve fuel:
We had a problem with the [refuelling] machine.  But I don't know if the problem was human or the machine.  We need to analyse what was the problem.

It was very frustrating. You fight the whole race and then you have to back off.  I was already saving fuel in the last run, but it was not enough, so I had to really back off and let Vettel go.  I lost a position to Fernando and almost to Nick, so it was quite frustrating.
Jenson Button has now won four out of five Grands Prix and both Lewis Hamilton and Felipe Massa seem to have written off challenging for the Championship this year.  Massa said:
We need to be realistic. After five races they won four. Even if we improve massively and we are three or four tenths in front of them they will still score points. So forget it.
Hamilton was clearly not happy with his car, telling the BBC after the race:
It's just a shame they haven't given me a car to defend the championship with.  The car is that bad.  I'm driving the socks off it.  There's just no hope.
2009 Spanish Grand Prix Race Results
| Pos | Driver | Team | Grid | Time | Points |
| --- | --- | --- | --- | --- | --- |
| 1 | Jenson Button | Brawn-Mercedes | 1 | 1:37:19.202 | 10 |
| 2 | Rubens Barrichello | Brawn-Mercedes | 3 | 1:37:32.258 | 8 |
| 3 | Mark Webber | Red Bull-Renault | 5 | 1:37:33.126 | 6 |
| 4 | Sebastian Vettel | Red Bull-Renault | 2 | 1:37:38.143 | 5 |
| 5 | Fernando Alonso | Renault | 7 | 1:38:02.368 | 4 |
| 6 | Felipe Massa | Ferrari | 4 | 1:38:10.029 | 3 |
| 7 | Nick Heidfeld | BMW Sauber | 13 | 1:38:11.514 | 2 |
| 8 | Nico Rosberg | Williams-Toyota | 7 | 1:38:24.413 | 1 |
| 9 | Lewis Hamilton | McLaren-Mercedes | 14 | lapped | 0 |
| 10 | Timo Glock | Toyota | 6 | lapped | 0 |
| 11 | Robert Kubica | BMW | 10 | lapped | 0 |
| 12 | Nelson Piquet Jr | Renault | 12 | lapped | 0 |
| 13 | Kazuki Nakajima | Williams-Toyota | 11 | lapped | 0 |
| 14 | Giancarlo Fisichella | Force India-Mercedes | 20 | lapped | 0 |
| RET | Kimi Raikkonen | Ferrari | 16 | retired, 17 laps | 0 |
| RET | Heikki Kovalainen | McLaren-Mercedes | 18 | retired, 7 laps | 0 |
| 17 | Jarno Trulli | Toyota | 7 | crash, 0 laps | 0 |
| 18 | Sebastien Buemi | Toro Rosso-Ferrari | 15 | crash, 0 laps | 0 |
| 19 | Sebastien Bourdais | Toro Rosso-Ferrari | 17 | crash, 0 laps | 0 |
| RET | Adrian Sutil | Force India-Mercedes | 19 | crash, 0 laps | 0 |
Image: Getty