Unstoppable Button wins again in Monaco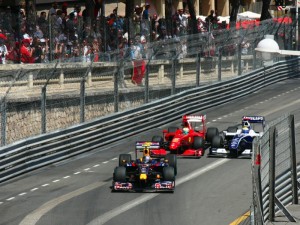 Jenson Button has joined the ranks of Jackie Stewart, Nigel Mansell and Michael Schumacher by winning five out of the first six Grands Prix of the season when he drove to a flawless victory in Monaco on Sunday.
Even KERS couldn't help Kimi Raikkonen to match the pace of the Brawn GP cars off the start and he dropped back to third behind Rubens Barrichello.
Ferrari must be encouraged by Kimi Raikkonen's third place finish and Felipe Massa's fourth, considering their woeful start to the season.  It gives them a nice haul of points and puts them fourth in the Constructors Championship.
Raikkonen might be happy for the team but he was disappointed not to finish higher:
Of course in the bigger picture I'm not happy with third place – I'm disappointed.  But, in this situation, for the team it's a good result.
Despite the gains made by Ferrari the Brawn GP car just looks unstoppable now.  There doesn't seem to be a circuit it is not suited to and Jenson Button's driving is impressing even Ross Brawn:
I'm lost for words with him really. He's exceeding everything I thought possible.
Button's lead in the Drivers' Championship is now 16 points over team mate Rubens Barrichello and 28 over Sebastian Vettel in third place.  Brawn GP lead the Constructor's Championship by a massive 43.5 points, with more than twice as many points as Red Bull has in second place.
2009 Monaco Grand Prix Race Results
| Pos | Driver | Team | Grid | Time | Points |
| --- | --- | --- | --- | --- | --- |
| 1 | Jenson Button | Brawn-Mercedes | 1 | 1:40:44.282 | 10 |
| 2 | Rubens Barrichello | Brawn-Mercedes | 3 | 1:40:51.948 | 8 |
| 3 | Kimi Raikkonen | Ferrari | 2 | 1:40:57.724 | 6 |
| 4 | Felipe Massa | Ferrari | 5 | 1:40:59.392 | 5 |
| 5 | Mark Webber | Red Bull-Renault | 8 | 1:41:00.012 | 4 |
| 6 | Nico Rosberg | Williams-Toyota | 6 | 1:41:17.868 | 3 |
| 7 | Fernando Alonso | Renault | 9 | 1:41:22.121 | 2 |
| 8 | Sebastien Bourdais | Toro Rosso-Ferrari | 14 | 1:41:47.424 | 1 |
| 9 | Giancarlo Fisichella | Force India-Mercedes | 13 | 1:41:49.322 | 0 |
| 10 | Timo Glock | Toyota | 19 | lapped | 0 |
| 11 | Nick Heidfeld | BMW Sauber | 16 | lapped | 0 |
| 12 | Lewis Hamilton | McLaren-Mercedes | 20 | lapped | 0 |
| 13 | Jarno Trulli | Toyota | 18 | lapped | 0 |
| 14 | Adrian Sutil | Force India-Mercedes | 15 | lapped | 0 |
| RET | Kazuki Nakajima | Williams-Toyota | 10 | crash, 76 laps | 0 |
| RET | Heikki Kovalainen | McLaren-Mercedes | 7 | crash, 51 laps | 0 |
| RET | Robert Kubica | BMW | 17 | retired, 28 laps | 0 |
| RET | Sebastian Vettel | Red Bull-Renault | 4 | crash, 15 laps | 0 |
| RET | Nelson Piquet Jr | Renault | 12 | retired, 10 laps | 0 |
| RET | Sebastien Buemi | Toro Rosso-Ferrari | 11 | crash, 10 laps | 0 |
Image: David Keen