Rubens wins in Valencia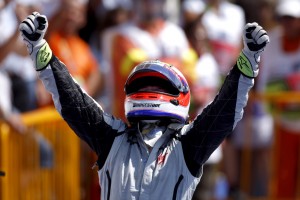 Rubens Barrichello claimed his first victory since China 2004 at the European Grand Prix in Valencia on Sunday.
He may have started from the second row of the grid but, fuel-adjusted, he was quickest in qualifying and he kept that pace throughout the race to leap-frog both McLarens.
Barrichello, who was wearing a special helmet with a message to Felipe Massa, dedicated the victory to his fellow countryman who is recovering in Brazil after his accident at the Hungarian Grand Prix:
I want to thank everyone who has supported me and this victory is dedicated to the whole of Brazil but particularly to my great friend Felipe Massa. I hope he is back racing against me soon.
Lewis Hamilton made a good start from pole position and was leading after the first round of pit stops but a late decision (too late as Lewis was already committed to the pit entrance) to keep him out for another lap meant that the pit crew weren't ready for his final set of tyres. The delay cost Hamilton a couple of seconds although Martin Whitmarsh would later say that McLaren didn't have the pace to beat Barrichello anyway:
To have a car arrive and not have the tyres there is an operational error. But had the tyres been ready it wouldn't have made a difference. It only cost us a couple of seconds.
I thought it was interesting to compare Hamilton's reaction to his team's error to Barrichello's outburst at the German Grand Prix.  While Rubens immediately claimed the team had lost the race for him, Lewis called his pit crew "the best" and said they deserved a pat on the back.
The win moves Barrichello into second place in the Drivers' Championship, 18 points behind his team mate Jenson Button, while Mark Webber drops back to third.
2009 European Grand Prix Race Results
| Pos | Driver | Team | Grid | Time | Points |
| --- | --- | --- | --- | --- | --- |
| 1 | Rubens Barrichello | Brawn-Mercedes | 3 | 35:51.289 | 10 |
| 2 | Lewis Hamilton | McLaren-Mercedes | 1 | 35:53.647 | 8 |
| 3 | Kimi Raikkonen | Ferrari | 6 | 36:07.283 | 6 |
| 4 | Heikki Kovalainen | McLaren-Mercedes | 2 | 36:11.321 | 5 |
| 5 | Nico Rosberg | Williams-Toyota | 7 | 36:12.159 | 4 |
| 6 | Fernando Alonso | Renault | 8 | 36:19.033 | 3 |
| 7 | Jenson Button | Brawn-Mercedes | 5 | 36:26.202 | 2 |
| 8 | Robert Kubica | BMW Sauber | 10 | 36:27.956 | 1 |
| 9 | Mark Webber | Red Bull-Renault | 9 | 36:36.199 | 0 |
| 10 | Adrian Sutil | Force India-Mercedes | 12 | 36:39.224 | 0 |
| 11 | Nick Heidfeld | BMW Sauber | 11 | 36:40.111 | 0 |
| 12 | Giancarlo Fisichella | Force India-Mercedes | 16 | 36:54.903 | 0 |
| 13 | Jarno Trulli | Toyota | 18 | 36:55.816 | 0 |
| 14 | Timo Glock | Toyota | 13 | 37:17.808 | 0 |
| 15 | Romain Grosjean | Renault | 14 | 37:23.033 | 0 |
| 16 | Jaime Alguersuari | Toro Rosso-Ferrari | 19 | lapped | 0 |
| 17 | Luca Badoer | Ferrari | 20 | lapped | 0 |
| 18 | Kazuki Nakajima | Williams-Toyota | 17 | lapped | 0 |
| RET | Sebastien Buemi | Toro Rosso-Ferrari | 15 | retired, 41 laps | 0 |
| RET | Sebastian Vettel | Red Bull-Renault | 4 | retired, 23 laps | 0 |
Image: Brawn GP