Prediction game: Round 12 – Belgium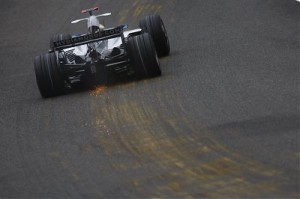 Eau Rouge.
Probably the best corner on the best circuit on the Formula One calendar. 300km/h, flat out, sweeping left, right, left up the crest into a blind summit.
In the 80's and 90's only the most fearless drivers could take Eau Rouge flat out and there was some hope that the reduction in downforce this year would again make it a real challenge to keep the pedal to the floor. The reality is that the increase in mechanical grip from the slick tyres has more than made up for the decrease in aerodynamic grip.
But one thing that cannot be counted on at Spa is a dry race.  Toyota's chassis chief Pascal Vasselon:
Where Eau Rouge regains its magic is in the rain; to watch a Formula 1 car through there on a wet track is just unbelievable.
The cooler temperatures and fast sweeping nature of the circuit should suit the Red Bulls more than the hot twisty Valencia circuit.  Rubens Barrichello dominated there but Spa will test whether Brawn have solved their problems getting heat into the tyres as Ross Brawn explains:
Although we believe we now have a better understanding of our recent tyre issues, the lower track temperatures at Spa will be the proving ground for this.
Similarly, while the McLarens were strong in Valencia, they are unlikely to be as competitive at Spa but team boss Martin Whitmarsh still thinks points are likely:
Despite making some major improvements to the MP4-24, we go to Spa knowing that the circuit's high-speed configuration is unlikely to play to our strengths of our car. Having said that, our new technical package makes us confident that we'll be a strong contender for points as we look to improve on our fourth position in the constructors' championship. We've enjoyed a tremendous record here, winning ten times, and both Lewis and Heikki love this place so I'm looking forward to another exciting race.
To make your predictions in round 12 of the F1 Buzz prediction game (and be in with a chance to win some nice prizes), just leave a comment on this post with your driver predictions for the race in the following format:
Pole:
First:
Second:
Third:
Fastest lap:
Remember, the deadline for entries is start of qualifying on Saturday, that's 12:00 GMT.
Good luck!
Image: Williams