Fisichella takes shock pole at Spa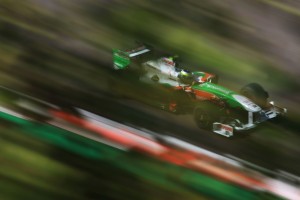 Well no-one predicted that!
In a thrilling qualifying for Sunday's Belgium Grand Prix that saw several big names not make it through to the top ten, Force India's Giancarlo Fisichella set a time of 1:46.308 to take pole position ahead of Toyota's Jarno Trulli.
BMW showed a marked improvement with Heidfeld and Kubica qualifying 3rd and 5th respectively with Rubens Barrichello between them in 4th.
The Red Bulls of Sebastian Vettel and Mark Webber will start from 8th and 9th ahead of Nico Rosberg who rounds out the top ten.  Just over a second separated Rosberg's time from Fisichella's.
Just as surprising as a Force India on pole was the failure of Championship leader Jenson Button to make it through to Q3; he will start from 14th tomorrow, a long way behind his team mate and the two Red Bull challengers.
Button has not made it onto the podium in the last four races and if Barrichello wins on Sunday with Button scoring no points he could see his lead reduced to just 8 points:
I'm a little bit worried because something is seriously not right.  It's strange to be four or five tenths off Rubens – our cars are different but not that different.
Fisichella's pole is his first since Malaysia 2006 and the first ever for the Force India team.
It's unbelievable – I didn't expect to be on pole position. Especially after yesterday. I was sixth and was quite surprised. There was a lot of understeering. The measurement on the downforce was not good.

This morning it was much better straightaway, and it was even better in qualifying than I expected. It's amazing. I'm so happy about that. I need to thank the team. They did a fantastic job.
We will see how light Fisichella is running when the fuel loads are revealed but he was fourth fastest in Q2 so it looks like the Force India has real pace.
2009 Formula One Belgian Grand Prix Qualifying Results
| Pos | Driver | Team | Time |
| --- | --- | --- | --- |
| 1 | Giancarlo Fisichella | Force India-Mercedes | 01:46.308 |
| 2 | Jarno Trulli | Toyota | 01:46.395 |
| 3 | Nick Heidfeld | BMW Sauber | 01:46.500 |
| 4 | Rubens Barrichello | Brawn-Mercedes | 01:46.513 |
| 5 | Robert Kubica | BMW Sauber | 01:46.586 |
| 6 | Kimi Raikkonen | Ferrari | 01:46.633 |
| 7 | Timo Glock | Toyota | 01:46.677 |
| 8 | Sebastian Vettel | Red Bull-Renault | 01:46.761 |
| 9 | Mark Webber | Red Bull-Renault | 01:46.788 |
| 10 | Nico Rosberg | Williams-Toyota | 01:47.362 |
| 11 | Adrian Sutil | Force India-Mercedes | 01:45.119 |
| 12 | Lewis Hamilton | McLaren-Mercedes | 01:45.122 |
| 13 | Fernando Alonso | Renault | 01:45.136 |
| 14 | Jenson Button | Brawn-Mercedes | 01:45.251 |
| 15 | Heikki Kovalainen | McLaren-Mercedes | 01:45.259 |
| 16 | Sebastien Buemi | Toro Rosso-Ferrari | 01:45.951 |
| 17 | Jaime Alguersuari | Toro Rosso-Ferrari | 01:46.032 |
| 18 | Kazuki Nakajima | Williams-Toyota | 01:46.307 |
| 19 | Romain Grosjean | Renault | 01:46.359 |
| 20 | Luca Badoer | Ferrari | 01:46.957 |
Image: Force India