Button takes Spain pole with seconds to spare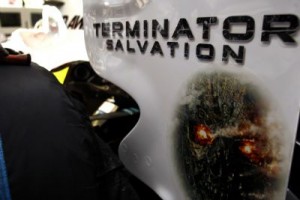 Jenson Button claimed his third pole position of the year in Saturday's qualifying for the Spanish Grand Prix.
Starting his final flying lap just seconds before the end of the session, Button set a lap time of 1:20.527, a tenth of a second faster than second place man Sebastian Vettel.
Button's team mate, Rubens Barrichello, will start from third on the grid alongside Felipe Massa which should warm some cockles back at Maranello.
Kimi Raikkonen was driving the new 'Superleggera' version of the F60, which gave him 10kg more ballast weight to play with but while both the Red Cars were quick in practice an error in strategy saw Raikkonen being dropped in the first qualifying session.
In a repeat of Malaysia, Ferrari thought Kimi's time would be enough to get him through to the second qualifying session and so decided not to send him out again.  As it turned out he was 2 tenths slower than Sebastien Buemi and will start way back on the eighth row of the grid.
Still, it does look like Ferrari have made significant improvement since Bahrain and Raikkonnen is confident the team can improve further:
We are still a bit behind, I would say, but it's much stronger than it was before.  It's only the first step, so we can get some more for the next races. After that, for sure we can catch them up even if it takes a little while.

I don't know if we can tomorrow or not, but in the later races we can definitely fight for wins, podiums and good positions.
As expected, the McLarens of Lewis Hamilton and Heikki Kovalainen performed poorly and only managed 14th and 18th, respectively.
2009 Spanish Grand Prix Qualifying Results
| Pos | Driver | Team | Time |
| --- | --- | --- | --- |
| 1 | Jenson Button | Brawn-Mercedes | 1:20.527 |
| 2 | Sebastian Vettel | Red Bull-Renault | 1:20.660 |
| 3 | Rubens Barrichello | Brawn-Mercedes | 1:20.762 |
| 4 | Felipe Massa | Ferrari | 1:20.934 |
| 5 | Mark Webber | Red Bull-Renault | 1:21.049 |
| 6 | Timo Glock | Toyota | 1:21.247 |
| 7 | Jarno Trulli | Toyota | 1:21.254 |
| 8 | Fernando Alonso | Renault | 1:21.392 |
| 9 | Nico Rosberg | Williams-Toyota | 1:22.558 |
| 10 | Robert Kubica | BMW Sauber | 1:22.685 |
| 11 | Kazuki Nakajima | Williams-Toyota | 1:20.531 |
| 12 | Nelson Piquet Jr | Renault | 1:20.604 |
| 13 | Nick Heidfeld | BMW Sauber | 1:20.676 |
| 14 | Lewis Hamilton | McLaren-Mercedes | 1:20.805 |
| 15 | Sebastien Buemi | Toro Rosso-Ferrari | 1:21.067 |
| 16 | Kimi Raikkonen | Ferrari | 1:21.291 |
| 17 | Sebastien Bourdais | Toro Rosso-Ferrari | 1:21.300 |
| 18 | Heikki Kovalainen | McLaren-Mercedes | 1:21.675 |
| 19 | Adrian Sutil | Force India-Mercedes | 1:21.742 |
| 20 | Giancarlo Fisichella | Force India-Mercedes | 1:22.204 |
Image: Brawn GP