Button on pole after dramatic qualifying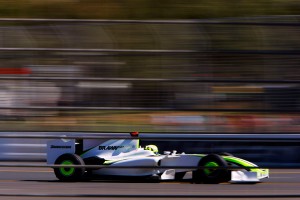 Jenson Button has put his Brawn GP BGP 001 on pole position for tomorrow's Australian Grand Prix in Melbourne. In a thrilling qualifying session that saw drivers constantly exchanging positions on the timesheet the two Brawn GP cars locked out the front row of the grid, something a new team has not done since Jackie Stewart claimed pole for Tyrrell at the 1970 Canadian Grand Prix.
Lewis Hamilton failed to take part in the second qualifying session due to "drive problems" which later turned out to require a change of gearbox, dropping him down to eighteenth.  The Toyotas of Timo Glock and Jarno Trulli had qualified in sixth and eighth but will now start from the back of the grid as the race stewards declared their rear wing contravened the technical regulations by being too flexible.  A flexible rear wing can provide an advantage by flattening at high speeds, and so reducing drag, but still providing downforce in slower corners.  Toyota have promised to strengthen the wing and will race on Sunday as long as officials approve the modifications.
And if flexible rear wings and dodgy diffusers weren't enough, Williams also lodged a protest against Ferrari and Red Bull, believed to be about their cars' sidepods.  After hours of deliberation by the stewards, Williams then decided to withdraw its protest just before midnight which seemed to annoy the journalists who had had to stay around the paddock to wait for the result.
It's great to see Jenson at the front of the grid and the car weights that are now published show the Brawn cars weren't running on fumes.  Red Bull's Sebastian Vettel did well to get the 'non-diffuser' RB5 up to third and Robert Kubica defied BMW's performance in practice to get his car on the second row of the grid.  Interestingly, Nico Rosberg, who's Williams had set the fastest time in all three practice sessions, could only manage fifth.
The teams running KERS didn't seem to have an advantage over the non-KERS equiped cars.  The first of the KERS drivers, Ferrari's Felipe Massa, qualified in seventh and Nick Heidfeld ended up behind his non-KERS team mate.  We also had a brief glimpse of the new on-screen graphics that show when KERS is being used.  This is really interesting to see and I hope we get more of it in the race on Sunday.  From what we saw of Kimi Raikkonen's on-board shots it seems to take quite a few corners to fully charge the KERS device.
It's amazing how close the whole field is and the new regulations have really turned the timesheet upside down.  Now if only the teams would stop whinging about regulations and just get on with the racing!
2009 Australian Grand Prix Qualifying Results
| Pos | Driver | Team | Time |
| --- | --- | --- | --- |
| 1 | Jenson Button | Brawn-Mercedes | 1:26.202 |
| 2 | Rubens Barrichello | Brawn-Mercedes | 1:26.505 |
| 3 | Sebastian Vettel | Red Bull-Renault | 1:26.830 |
| 4 | Robert Kubica | BMW Sauber | 1:26.914 |
| 5 | Nico Rosberg | Williams-Toyota | 1:26.973 |
| 6 | Felipe Massa | Ferrari | 1:27.033 |
| 7 | Kimi Raikkonen | Ferrari | 1:27.163 |
| 8 | Mark Webber | Red Bull-Renault | 1:27.246 |
| 9 | Nick Heidfeld | BMW Sauber | 1:25.504 |
| 10 | Fernando Alonso | Renault | 1:25.605 |
| 11 | Kazuki Nakajima | Williams-Toyota | 1:25.607 |
| 12 | Heikki Kovalainen | McLaren-Mercedes | 1:25.726 |
| 13 | Sebastien Buemi | Toro Rosso-Ferrari | 1:26.503 |
| 14 | Nelson Piquet Jr | Renault | 1:26.598 |
| 15 | Giancarlo Fisichella | Force India-Mercedes | 1:26.677 |
| 16 | Adrian Sutil | Force India-Mercedes | 1:26.742 |
| 17 | Sebastien Bourdais | Toro Rosso-Ferrari | 1:26.964 |
| 18 | Lewis Hamilton | McLaren-Mercedes | – |
| 19 | Timo Glock | Toyota | – |
| 20 | Jarno Trulli | Toyota | – |