Rosberg goes fastest in practice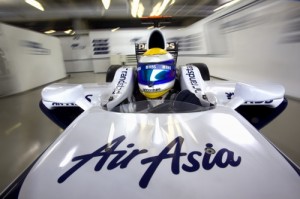 The three teams running controversial diffusers dominated practice for the Australian Grand Prix in Melbourne on Friday.  Williams driver Nico Rosberg finished the second session on top with a time of 1.26.053, followed by Brawn GP's Rubens Barrichello and Toyota's Jarno Trulli.
Australian Mark Webber managed to get his Red Bull up to fourth with a time of 1:26.370 but the RB5 struggled with technical issues and team mate Sebastian Vettel only managed 8th ahead of the Force India of Adrian Sutil.
As expected, the McLarens of Heikki Kovalainen and Lewis Hamilton were well off the pace finishing 17th and 18th respectively.  What was not so expected was the poor performance of BMW.  Nick Heidfeld only managed 14th with 1:27.802 and his team mate Robert Kubica was just behind him.  In radio transmissions, Kubica complained of lack of grip saying:
I don't recognise this car. It's not the same. It is very, very difficult to drive.
Poor Nelson Piquet struggled and finished the day in 19th place.  He's going to have to do better than that if he wants to avoid more insults from boss Flavio Briatore.
It's great to see the timesheets turned on their head like this and it must be encouraging for Nico Rosberg to finally have what seems like a decent car under him.  After the clear dominance of the 'double-decker' diffusers in practice will we see some pieces of carbon fibre hastily bolted on to the other cars?  It would be a bit awkward for those teams who have lodged protests to then copy their design and in the case of BMW, Mario Theissen has already said that their gearbox won't work with a different diffuser.
Here are the times from both practice sessions:
First Practice
| Pos | Driver | Team | Time | Laps |
| --- | --- | --- | --- | --- |
| 1. | Rosberg | Williams-Toyota | 1:26.687 | 19 |
| 2. | Nakajima | Williams-Toyota | 1:26.736 + 0.049 | 21 |
| 3. | Raikkonen | Ferrari | 1:26.750 + 0.063 | 24 |
| 4. | Barrichello | Brawn-Mercedes | 1:27.226 + 0.539 | 21 |
| 5. | Kovalainen | McLaren-Mercedes | 1:27.453 + 0.766 | 15 |
| 6. | Button | Brawn-Mercedes | 1:27.467 + 0.780 | 12 |
| 7. | Massa | Ferrari | 1:27.642 + 0.955 | 24 |
| 8. | Glock | Toyota | 1:27.710 + 1.023 | 24 |
| 9. | Sutil | Force India-Mercedes | 1:27.993 + 1.306 | 20 |
| 10. | Alonso | Renault | 1:28.123 + 1.436 | 16 |
| 11. | Heidfeld | BMW Sauber | 1:28.137 + 1.450 | 20 |
| 12. | Trulli | Toyota | 1:28.142 + 1.455 | 21 |
| 13. | Kubica | BMW Sauber | 1:28.511 + 1.824 | 22 |
| 14. | Fisichella | Force India-Mercedes | 1:28.603 + 1.916 | 16 |
| 15. | Buemi | Toro Rosso-Ferrari | 1:28.785 + 2.098 | 27 |
| 16. | Hamilton | McLaren-Mercedes | 1:29.042 + 2.355 | 18 |
| 17. | Webber | Red Bull-Renault | 1:29.081 + 2.394 | 7 |
| 18. | Piquet | Renault | 1:29.461 + 2.774 | 25 |
| 19. | Bourdais | Toro Rosso-Ferrari | 1:29.499 + 2.812 | 21 |
| 20. | Vettel | Red Bull-Renault | 1:32.784 + 6.097 | 4 |
Second Practice
| Pos | Driver | Team | Time | Laps |
| --- | --- | --- | --- | --- |
| 1. | Rosberg | Williams-Toyota | 1:26.053 | 36 |
| 2. | Barrichello | Brawn-Mercedes | 1:26.157 + 0.104 | 38 |
| 3. | Trulli | Toyota | 1:26.350 + 0.297 | 42 |
| 4. | Webber | Red Bull-Renault | 1:26.370 + 0.317 | 30 |
| 5. | Button | Brawn-Mercedes | 1:26.374 + 0.321 | 38 |
| 6. | Glock | Toyota | 1:26.443 + 0.390 | 42 |
| 7. | Nakajima | Williams-Toyota | 1:26.560 + 0.507 | 33 |
| 8. | Vettel | Red Bull-Renault | 1:26.740 + 0.687 | 19 |
| 9. | Sutil | Force India-Mercedes | 1:27.040 + 0.987 | 29 |
| 10. | Massa | Ferrari | 1:27.064 + 1.011 | 35 |
| 11. | Raikkonen | Ferrari | 1:27.204 + 1.151 | 32 |
| 12. | Alonso | Renault | 1:27.232 + 1.179 | 28 |
| 13. | Fisichella | Force India-Mercedes | 1:27.282 + 1.229 | 32 |
| 14. | Heidfeld | BMW-Sauber | 1:27.317 + 1.264 | 34 |
| 15. | Kubica | BMW-Sauber | 1:27.398 + 1.345 | 36 |
| 16. | Bourdais | Toro Rosso-Ferrari | 1:27.479 + 1.426 | 36 |
| 17. | Kovalainen | McLaren-Mercedes | 1:27.802 + 1.749 | 35 |
| 18. | Hamilton | McLaren-Mercedes | 1:27.813 + 1.760 | 31 |
| 19. | Piquet | Renault | 1:27.828 + 1.775 | 35 |
| 20. | Buemi | Toro Rosso-Ferrari | 1:28.076 + 2.023 | 33 |