Red Bull tops Friday practice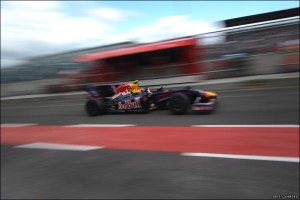 The two Red Bulls of Sebastian Vettel and Mark Webber posted the quickest time in both practice sessions for the British Grand Prix at a windy Silverstone on Friday.
Sebastian Vettel outpaced his team mate in both sessions but the new parts Red Bull have fitted (including a new front wing and nose) were obviously working well.
Mark Webber's second session was cut short when he hit the curb and lost all electrical power:
It's been a pretty good day for us; we've tried a few new bits here, which seem to be going pretty well. We've tried both sets of tyres and need to go through all the data tonight.  My second session ended a little early as I hit a kerb on Turn five, which caused the car's electronics to stop.
In the first session, the two Brawn GP cars were 3rd and 4th fastest but, surprisingly, it was Force India's Adrian Sutil who went 3rd fastest in the second session.
As Silverstone is such a light braking circuit, it can be hard to harvest enough energy to make KERS worthwhile so McLaren chose to run different strategies for their drivers in practice.  Heikki Kovalainen continued to use KERS while Lewis Hamilton ran without the device as Norbert Haug explains:
Lewis today drove without KERS because Silverstone is a circuit where you do not brake too often: you get less of a benefit from the system here than you would on heavy-braking circuits. By way of comparison, Heikki used the system today and our specialists will analyse today's results and decide whether we choose to continue using the system on his car for the rest of the weekend.
It will be interesting to see what they choose to do on Saturday as Kovalainen felt he could still make use of KERS:
It's still difficult to say whether it's an advantage to be running KERS, but I felt I was getting a laptime benefit from the system.
Morning showers are predicted for Saturday but it should be dry by the time qualifying gets underway.
Here are the times from the first two practice sessions:
First Practice
| Pos | Driver | Team | Time |
| --- | --- | --- | --- |
| 1 | Sebastian Vettel | Red Bull-Renault | 1:19.400 |
| 2 | Mark Webber | Red Bull-Renault | 1:19.682 |
| 3 | Jenson Button | Brawn-Mercedes | 1:20.227 |
| 4 | Rubens Barrichello | Brawn-Mercedes | 1:20.242 |
| 5 | Fernando Alonso | Renault | 1:20.458 |
| 6 | Felipe Massa | Ferrari | 1:20.471 |
| 7 | Jarno Trulli | Toyota | 1:20.585 |
| 8 | Lewis Hamilton | McLaren | 1:20.650 |
| 9 | Nico Rosberg | Williams-Toyota | 1:20.815 |
| 10 | Giancarlo Fisichella | Force India-Mercedes | 1:20.838 |
| 11 | Adrian Sutil | Force India-Mercedes | 1:20.913 |
| 12 | Heikki Kovalainen | McLaren-Mercedes | 1:21.029 |
| 13 | Nick Heidfeld | BMW Sauber | 1:21.103 |
| 14 | Kimi Raikkonen | Ferrari | 1:21.179 |
| 15 | Sebastien Bourdais | Toro Rosso-Ferrari | 1:21.384 |
| 16 | Timo Glock | Toyota | 1:21.386 |
| 17 | Kazuki Nakajima | Williams-Toyota | 1:21.489 |
| 18 | Nelson Piquet Jr | Renault | 1:21.525 |
| 19 | Sebastien Buemi | Toro Rosso-Ferrari | 1:21.590 |
| 20 | Robert Kubica | BMW Sauber | 1:21.801 |
Second Practice
| Pos | Driver | Team | Time |
| --- | --- | --- | --- |
| 1 | Sebastian Vettel | Red Bull-Renault | 1:19.456 |
| 2 | Mark Webber | Red Bull-Renault | 1:19.597 |
| 3 | Adrian Sutil | Force India-Mercedes | 1:20.141 |
| 4 | Kazuki Nakajima | Williams-Toyota | 1:20.209 |
| 5 | Fernando Alonso | Renault | 1:20.237 |
| 6 | Rubens Barrichello | Brawn-Mercedes | 1:20.244 |
| 7 | Lewis Hamilton | McLaren | 1:20.417 |
| 8 | Jarno Trulli | Toyota | 1:20.458 |
| 9 | Nico Rosbert | Williams | 1:20.468 |
| 10 | Nelson Piquet Jr | Renault | 1:20.608 |
| 11 | Robert Kubica | BMW Sauber | 1:20.622 |
| 12 | Heikki Kovalainen | McLaren-Mercedes | 1:20.733 |
| 13 | Timo Glock | Toyota | 1:20.762 |
| 14 | Jenson Button | Brawn-Mercedes | 1:20.767 |
| 15 | Nick Heidfeld | BMW Sauber | 1:20.932 |
| 16 | Sebastien Bourdais | Toro Rosso-Ferrari | 1:20.945 |
| 17 | Felipe Massa | Ferrari | 1:21.005 |
| 18 | Kimi Raikkonen | Ferrari | 1:21.132 |
| 19 | Giancarlo Fisichella | Force India-Mercedes | 1:21.413 |
| 20 | Sebastien Buemi | Toro Rosso-Ferrari | 1:21.668 |