Lewis and Jenson's new lids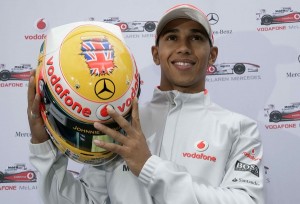 Despite all the off-track politics, we shouldn't forget there is still a race on this weekend.
It could be the last British Grand Prix at Silverstone for some time and both Lewis Hamilton and Jenson Button will be wearing special helmet designs for their home Grand Prix.
It is the first time Lewis Hamilton has altered the design of his famous yellow crash helmet for his home race since starting his grand prix career in 2007.
The design shows the top of his helmet peeling away to reveal a British flag underneath.  Hamilton said:
I'm really proud to be a British driver in a British team racing in front of the British crowd. I wanted to choose a design that not only showed that I am a British sportsman but, more importantly, recognised all the support I get from the fans at Silverstone.
Jenson Button, on the other hand, has a tradition of wearing a different helmet design for the British Grand Prix.  This year's design was the result of a competition to give Jenson's fans the opportunity to design a helmet that incorporated a British theme and Bernie Zobl's 'Push The Button' design was the one chosen by Jenson.
Button commented:
For the last few years, it has become something of a tradition for me to have a special British themed helmet and this year is no exception. I wanted my fans to be involved so we ran a competition on my website www.jensonbutton.com and chose the winning design by Bernie. What I loved about Bernie's design was its unique take on the Union Jack flag and how he had incorporated it into my own Button logo. The helmet looks great and I can't wait to wear it at Silverstone this weekend.
More pictures of Jenson Button's helmet are below.
Images: McLaren, Brawn GP