Lewis Hamilton and Felipe Massa's dad to drive for Ferrari in 2010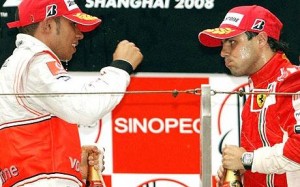 Ferrari have unexpectedly announced that they are terminating Felipe Massa and Kimi Räikkönen's contracts at the end of the 2009 season to make way for Lewis Hamilton and Felipe's dad.
Neither of the two Ferrari cars finished the race at the Australian Grand Prix in Melbourne on Sunday and despite both drivers having signed contracts until the end of 2010 it seems Ferrari have had enough of them both.
In a statement issued by Luca di Montezemolo the  Ferrari chairman said:
Australia was a terrible start to the 2009 season and neither of our drivers finished.  That's just not good enough for Ferrari.  I mean, seriously, what are we paying these guys for?  Felipe's a nice guy and all but I think it's time we gave his dad a shot.
It is understood the two drivers will finish their season at the Scuderia this year although Massa's dad is keen to step in as soon as possible:
I've spent the last twenty years preparing Felipe to win the Championship and when he finally gets the chance he blows it.  Well that's it.  I'm going to show the kid how it's done.
There had been rumours that Felipe's dad would be making the move from race dad to race driver when Felipe said at the Australian Grand Prix:
He (Hamilton) is just another one, I don't care. (MotoGP champion) Valentino Rossi as well and maybe my father will drive for Ferrari next year.
Despite previously saying he wanted to finish his career at McLaren, Lewis Hamilton was happy to make the move to Ferrari after the MP4-24 failed to live up to his expectations saying:
Yeah, I know the F60 doesn't look too good at the moment but they drove a lorry load of cash up to my house.  I think that shows they are serious.