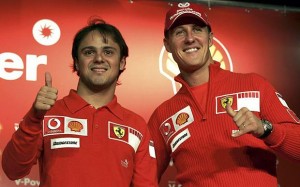 Forget BMW leaving Formula One.  That's old news.  The big shock is the announcement today that seven-time World Champion Michael Schumacher will return to drive for Ferrari in place of the injured Felipe Massa.
This comes just 24 hours after Schumacher's manager, Willi Weber, discounted rumours of a comeback by saying he was 200% sure someone other than Michael would be driving in Valencia.
Today Ferrari issued the following statement on their website:
Scuderia Ferrari Marlboro intends to put Michael Schumacher in Felipe Massa's car untill the brazilian driver will be able to race again. Michael Schumacher said he is ready and, over the next few days, will undertake a specifc training programme at the end of which confermation will be given of his participation in the Championship with effect from the European Grand Prix on the 23rd of August.
Schumacher is a close friend of Felipe Massa and was a mentor to the young Brazilian when he was his team mate at Ferrari in 2006.  No doubt this influenced his decision to return to F1.  On his website Schumacher wrote:
The most important thing first: thanks God, all news concerning Felipe are positive. I wish him all the best again.

I was meeting this afternoon with Stefano Domenicali and Luca di Montezemolo and together we decided that I will prepare myself to take the place of Felipe.Though it is true that the chapter Formula 1 has been closed for me since long and completely, it is also true that for loyalty reasons to the team I cannot ignore that unfortunate situation. But as the competitor I am I also very much look forward to facing this challenge.
He won't be the only one looking forward to it.
While Ferrari don't have the crushing dominance they did in 2004 when Schumacher won 12 of the first 13 races, Kimi Raikkonen and Felipe Massa have put the Red Cars on the podium three times so far this year.  How incredible would it be if Schumacher returned to give the Scuderia their first victory of the season?
Michael won't be able to test the F60 — with KERS and an adjustable front wing — before the European Grand Prix but I'm sure it won't take Schumacher long to get used to the extra buttons on the steering wheel.
It's going to be a fascinating European Grand Prix with Schumacher going head to head with Hamilton, Vettel and his old team mate Rubens Barrichello.
And when Michael gets to Monza in September the Tifosi are going to go mental.
Image: Reuters