Max is going, will Bernie be next?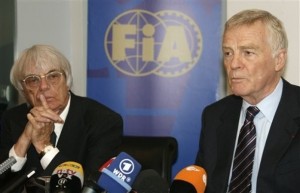 Despite Max Mosley's insistence that he wasn't forced out, that his departure from his position as President of the FIA was always 'planned, agreed, arranged', the fact that he will not be standing for re-election in October is clearly a victory for the teams.
On the face of it, the FOTA-FIA war was about budget caps and two-tier regulations, but really it was about Max Mosley and his autocratic style of running the sport.  After Wednesday's announcement, Ferrari President Luca di Montezemolo called Mosley a 'dictator'.
Max himself said:
As far as I'm concerned, the teams were always going to get rid of me in October; well, they still are.
Now the teams have their stable regulations and have got rid of Max, will FOTA turn its attention to his mate Bernie?
In March, there was a threat to boycott the season opening Australian Grand Prix over claims that the teams were owed tens of millions of dollars in unpaid fees by the commercial rights holder.  In the end the teams backed down, but there is no doubt that FOTA is stronger because of its recent victory and they may try to use the momentum to push through changes to the commercial side of the sport as well.
The teams have long been unhappy that they only receive 50% of the sport's revenues and there have been questions over the wisdom of taking Formula One to half empty venues like Turkey over other older and better attended circuits.
Max will turn 70 next year and Bernie himself is 10 years older.  I can't see Ecclestone offering his retirement any time soon and I don't think the teams actually want to get rid of him but I wouldn't be surprised if FOTA managed to wring a slightly more favourable deal out of him now.
Image: AP Photo/Gareth Watkins