Rosberg tops practice again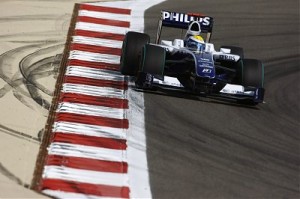 When will Nico Rosberg translate his practice performance into race pace?  The Williams driver has been consistently at the top of the time sheets in practice this year but so far has failed to deliver on race day.
While Lewis Hamilton went quickest in the first practice session for Sunday's Bahrain Grand Prix, Nico Rosberg set the fastest time in the second session.
Fernando Alonso had been running high fuel loads and concentrating on race setup and so had been at the bottom of the order but he put in a flying lap at the end to go second fastest as Pat Symonds, Renault's Executive Director of Engineering, explains:
The Bahrain circuit is our first hard braking circuit of the year and ranks among the hardest for the total braking system. In view of this, we spent a lot more time today on heavier than normal fuel loads, concentrating on our set-up for Sunday.
Here are the times from the first two practice sessions:
First Practice
| Pos | Driver | Team | Time |
| --- | --- | --- | --- |
| 1 | Lewis Hamilton | McLaren-Mercedes | 1:33.647 |
| 2 | Nick Heidfeld | BMW Sauber | 1:33.907 |
| 3 | Robert Kubica | BMW Sauber | 1:33.938 |
| 4 | Nico Rosberg | Williams-Toyota | 1:34.227 |
| 5 | Jenson Button | Brawn-Mercedes | 1:34.434 |
| 6 | Heikki Kovalainen | McLaren-Mercedes | 1:34.502 |
| 7 | Rubens Barrichello | Brawn-Mercedes | 1:34.531 |
| 8 | Felipe Massa | Ferrari | 1:34.589 |
| 9 | Mark Webber | Red Bull-Renault | 1:34.827 |
| 10 | Kimi Raikkonen | Ferrari | 1:34.827 |
| 11 | Kazuki Nakajima | Williams-Toyota | 1:34.880 |
| 12 | Sebastian Vettel | Red Bull-Renault | 1:34.938 |
| 13 | Nelson Piquet Jr | Renault | 1:34.974 |
| 14 | Adrian Sutil | Force India-Mercedes | 1:35.021 |
| 15 | Jarno Trulli | Toyota | 1:35.036 |
| 16 | Giancarlo Fisichella | Force India-Mercedes | 1:35.042 |
| 17 | Timo Glock | Toyota | 1:35.333 |
| 18 | Fernando Alonso | Renault | 1:35.348 |
| 19 | Sebastien Bourdais | Toro Rosso-Ferrari | 1:35.353 |
| 20 | Sebastien Buemi | Torro Rosso-Ferrari | 1:35.369 |
Second Practice
| Pos | Driver | Team | Time |
| --- | --- | --- | --- |
| 1 | Nico Rosberg | Williams-Toyota | 1:33.339 |
| 2 | Fernando Alonso | Renault | 1:33.530 |
| 3 | Jarno Trulli | Toyota | 1:33.616 |
| 4 | Sebastian Vettel | Red Bull-Renault | 1:33.661 |
| 5 | Mark Webber | Red Bull-Renault | 1:33.676 |
| 6 | Jenson Button | Brawn-Mercedes | 1:33.694 |
| 7 | Adrian Sutil | Force India-Mercedes | 1:33.763 |
| 8 | Timo Glock | Toyota | 1:33.764 |
| 9 | Rubens Barrichello | Brawn-Mercedes | 1:33.885 |
| 10 | Kazuki Nakajima | Williams-Toyota | 1:33.899 |
| 11 | Lewis Hamilton | McLaren-Mercedes | 1:33.994 |
| 12 | Giancarlo Fisichella | Force India-Mercedes | 1:34.025 |
| 13 | Sebastien Buemi | Toro Rosso-Ferrari | 1:34.127 |
| 14 | Sebastien Bourdais | Toro Rosso-Ferrari | 1:34.366 |
| 15 | Nelson Piquet Jr | Renault | 1:34.411 |
| 16 | Felipe Massa | Ferrari | 1:34.564 |
| 17 | Robert Kubica | BMW Sauber | 1:34.605 |
| 18 | Kimi Raikkonen | Ferrari | 1:34.670 |
| 19 | Heikki Kovalainen | McLaren-Mercedes | 1:34.764 |
| 20 | Nick Heidfeld | BMW Sauber | 1:34.790 |
Image: LAT