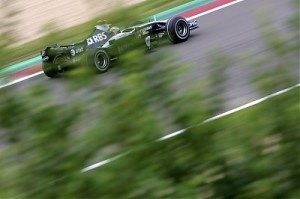 After a long three week break the season continues with the German Grand Prix at the Nürburgring.  It is the home Grand Prix for fully one quarter of the drivers on the grid but realistically there is only one German with a chance of standing on the top step on Sunday.
Sebastian Vettel comes to the Nürburgring fresh from his victory at Silverstone and he will be hoping to maintain that momentum in front of his home crowd and further narrow the gap to Championship leader Jenson Button.  It will be Vettel's first time around the Ring in an F1 car but he has raced (and won) there before in everything from karts to F3 and Renault World Series.
Timo Glock is another German yet to experience the Nürburgring in Formula One but, like Vettel, he has won there before in other classes.  After making it through to Q3 in Britain Glock just missed out on points in the race but he is hopeful of a strong finish in Germany:
I've had some good races so far and it has been nice to be battling at the front quite often. This weekend is another chance to do that and I can't wait.
Despite having a famous Finnish father, Nico Rosberg is actually a German citizen.  He set the third fastest lap at Silverstone and ended the race in fifth which boosted him to seventh in the Drivers' Championship and Williams to fifth in the Constructors' Championship – ahead of McLaren.
Rosberg is obviously at home on the circuit.  In this video he talks us through a lap of the Ring – blindfolded.
Nick Heidfeld will be sporting a special helmet design for his home race but it will take more than a fresh coat of paint to turn the BMW Sauber F1.09 into a race winning machine.  Two years ago Heidfeld became the first driver in 30 years to pilot an F1 car around the old Nordschleife circuit, christened The Green Hell by Jackie Stewart.
Heidfeld is in real danger of being beaten by compatriot Adrian Sutil on Sunday.  Force India have been steadily improving all season and if Sutil hadn't gone off in a big way in qualifying he may have finished in the points in the British Grand Prix.  There is a chance of rain on Sunday and if that happens then it is quite possible Adrian Sutil could score Force India's first points.
To make your predictions in round 9 of the F1 Buzz prediction game (and be in with a chance to win some nice prizes), just leave a comment on this post with your driver predictions for the race in the following format:
Pole:
First:
Second:
Third:
Fastest lap:
Remember, the deadline for entries is start of qualifying on Saturday, that's 12:00 GMT.
Good luck!
Image & video: Williams